replacement drawer guides, pat #4930739
A home owner from Cleveland, OH says:
April 3, 2011
I seem to have broken the plastic drawer guides. Can you assist in identifying replacement parts. I have attached pictures of the drawer location and rear guides that are broken. I removed the rail and it is 20 inches long. It has no identification, other than a "G" in the middle of the wheel on the guide. The broken plastic guide has patent # 4930739. Thanks for your assistance. Walt M.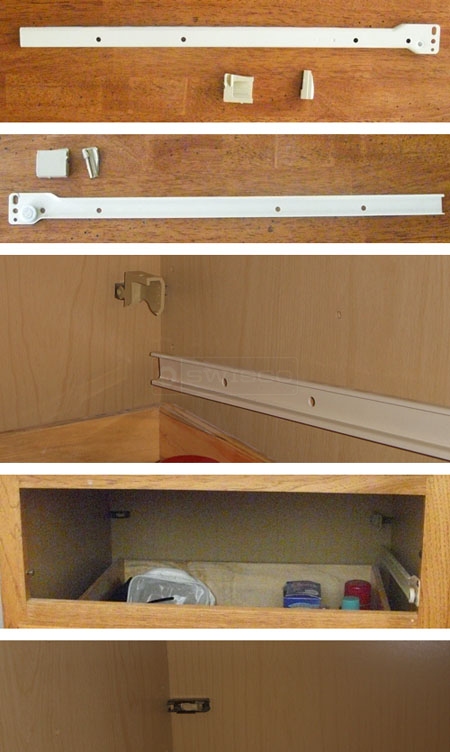 A home owner from laurel, md says:
April 8, 2011
I, also, am interested in buying a replacement drawer guide. I haven't had any luck in finding anyone who sells that one little plastic part, the brown piece at the back of the cabinet in the 3rd pic above.
It snaps on to a metal bracket.
I can't believe no one sells this!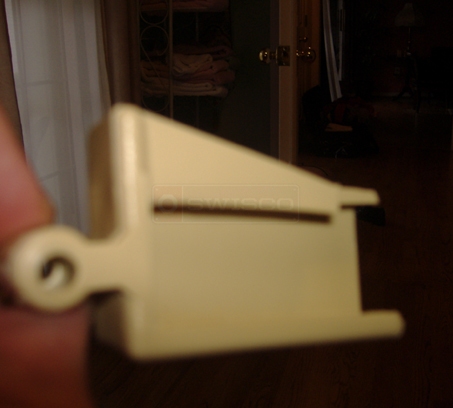 A home owner from Effingham, IL says:
May 31, 2011
How interesting! I have a house full of these junk HAAS cabinet drawer slid plastic pieces. Haas cabinet web site won't give you any info except contact your local Haas dealer. Does anyone know if that is my only option and will they still have them after the initial install 14 years ago????
A quick learner from Kentucky says:
December 28, 2011
I have the same problem as the Cleveland homeowner. Part # 4930739 is broken on both sides. I need 2 replacement parts and instruction on how to remove and install the new part.
A home owner from MA says:
February 6, 2012
Hello,
I am in the same boat with this guide socket for my HAAS cabinets. Did you have any luck with customer service at Haas?

A quick learner from KY says:
March 19, 2012
I have had HAAS ship me the replacement parts several times. Please NOTE SEVERAL times. They ship them and they last 3 or 4 years and they break again.
Paul from SWISCO responded:

March 20, 2012

Thank you for posting! It's unfortunate to hear that the official replacement breaks so easily. Have you seen our

32-119

drawer guide, however? Please match its dimensions to your own hardware and see if it might work for you.
A home owner from Orland park,il. says:
September 28, 2012
It was interesting to see so many people with the same problem I have. Unfortunately, my problem is always with one drawer only,THE SILVERWARE DRAWER. Obviously the weight in the drawer is too much. So I will order the replacement part so see if that works any better. Will also have to lighten the load in the drawer.