silverline sliding window hinge
A quick learner says:
October 13, 2017
Plastic Hinge that allows one to open a sliding glass window.

Manuela from SWISCO responded:

October 13, 2017

May we see some photos of your current hinge? We would like to take a closer look.
A quick learner from New Jersey says:
October 13, 2017
I think I have identified this as a
15-058
hinge. This picture matches the broken part.
My Balancer is also broken. Its 26 inches has 2540 D on the metal is 1/2 inch wide and has a top but not a shoe. .
https://www.swisco.com/discussions/Silver-Line-Channel-Balance-77-81968
The top looks like a
19-008
. There is only one. Is there suppose to be two balancers? Which balancer do I select? S350, 351 or 390?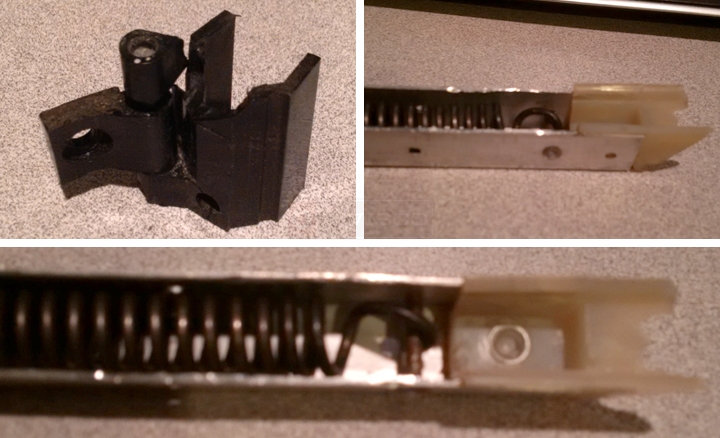 Tom from SWISCO responded:

October 19, 2017

Thanks for posting! As a matter of fact, these windows typically do have two balances, yes. This is a special kind of asymmetrical balance system that will need to be custom made. None of our standard Series will replace this.

First, do you have an identical window elsewhere in the house that still has both its balances? Since this system is asymmetrical, the missing balance won't be the same as what you have now. We will need to see one of the missing balances in order to repair your window.

Next, can you confirm that the balance you show in your photos only has a nylon attachment at the top? The way these usually work is, one side has a top attachment and a bottom attachment, while the other side only has a top attachment and no bottom attachment whatsoever.

The other difference between the two balances, and the most important, is the stamp. The stamp printed on the metal channel indicates the strength of the spring. Typically, the two balances have two different stamps, which is unique to this window. We may be able to get away with using the same stamp on both sides, but I'd like to eliminate all other options before we go down that route. There's no guarantee it will work if we do.
A quick learner from New Jersey says:
October 31, 2017
The left balancer has a stamp marked 2540 D. The Right is likely a 2520 D. I don't have another window but my neighbor does and it looks like a 2520.

The top has a nylon attachment on the top but nothing on the bottom.

Thanks.
Tom from SWISCO responded:

November 1, 2017

Thank you! That is a huge help. However, I'm still not sure which balance has what attachments. Between the 2540 and the 2520, which has the top and bottom attachment, and which only hast he top?