1/2" length spiral balances
A handy person from chicago says:
May 24, 2016
I'm looking for these spiral balances. They are wrapped in a white plastic casing. I'm not sure if that casing has a purpose or not, but I was told by another supplier that I had to get the exact ones. My balances are 26 1/2" from rod to rod. There 3/8, and are blue tip. The supplier said that he never heard of 26 1/2", and that I had to find the exact ones. Getting the balances with just the steel or aluminum would effect the function of the window. How do you guys measure the balances? can you make these or have them in stock? The measurement from the white tip to white tip is 27". The windows don't have a brand or serial number. Let me know if you guys can help me.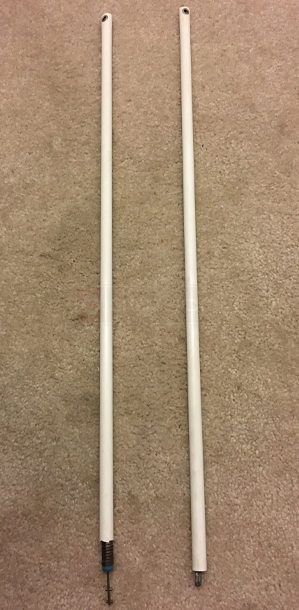 Paul from SWISCO responded:

May 26, 2016

We measure the length and diameter of the outer tube in order to determine the best match. We like to replace hardware with exactly what was in before, because that helps avoid complications, but in some cases there's a little wiggle room.

In your case, manufacturers used to make balances with lengths on the 1/2" all the time, but began to phase out that practice over the years. Most manufacturers like to make their balances on the inch these days. I think you could get away with our

S600-27

spiral balance. This has an outer tube length of 27" and an outer tube diameter of 5/8". Measure your outer tube diameter and see if it's 5/8" or 9/16". If so, I think you'll be good with this.

As for the metal tube, it won't affect the function of the window. We actually prefer metal tubes since they won't break apart when exposed to sunlight over the years.