spiral balence replacement
A handy person from Estero, FL 33928 says:
February 29, 2016
After Hurricane Charley in 2007 we replaced our condo windows with Miami Dade strength Hurricane windows. Slowly the spiral balances have failed and I would like to replace them. The company no longer manufactures the window and a recommended installer only wants to install new windows. The windows themselves are great and we love the quiet and the fact that it require an Abrams tank running full out to get through them.
Based on your videos I went into the windows themselves. Nothing truly looks like what you have except the 600 series. The tube diameter is 9/16 and the tube length is 31 but I do not know how I could get a 31' back in as I had to bend it way out to get it out from the grove in the window. As you can see in the last picture the tip is yellow. I can feel the two fingers that hold the spring if I stick my finger up the track hold.
I know these windows are heavy as lifting them with both spiral balances broken is back breaking. Can I give you a "weight" based on what it takes to hold them up in the channel as these windows are not really tilt out? If I ordered a 30 balance would it be easier to install?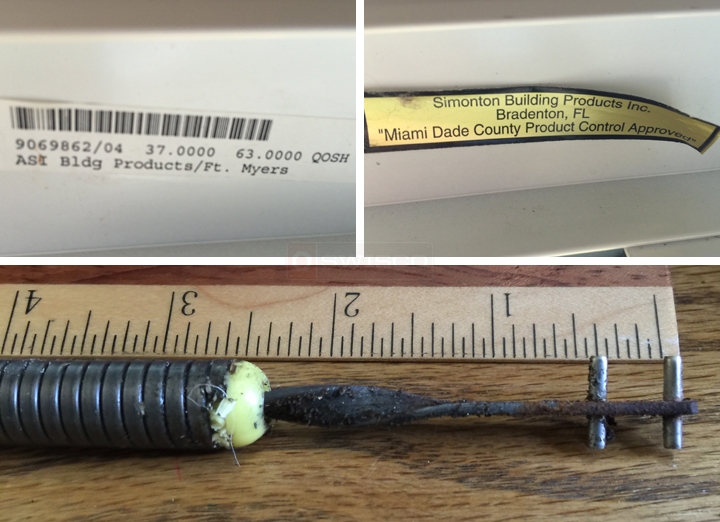 Simonton Building Products Inc.
Paul from SWISCO responded:

March 2, 2016

Hmm... I agree, the

Series 600

looks close, but you should not have bent it to remove it from the window. The

Series 600

is for tilt windows, which means the sash should just tilt in and pop out, giving you complete access to the spiral balance. See the video below.

Does that help you when it comes to installation? Do you have a tilt window, or non-tilt? If you have a non-tilt window, I will need to see pictures of the complete balance, where it attaches on the sash, and the length of those two pins at the end of the spiral. They look longer than usual. Let me know!