window blance 27C B.S.I.
A home owner from Chattanooga, TN says:
July 26, 2012
I have a broken window balance in one of my aluminum windows I would like to replace. The only stamping I found on the balance was 27C B.S.I. My home was built around 1985 so would you have a replacement balance for this window. I also have 6 other window that are the same so I would like to replace all of them since they are starting to get hard to open.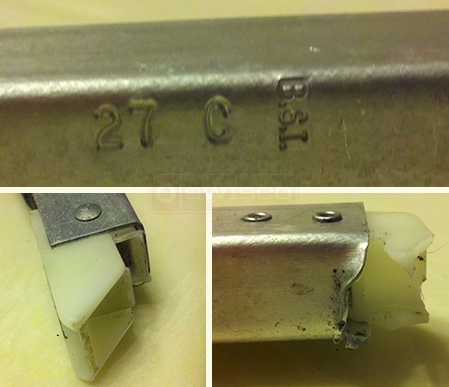 Tom from SWISCO responded:

July 30, 2012

Good afternoon! Thank you for posting. We're having a bit of trouble identifying this balance's

bottom shoe

. It appears to be damaged. If at all possible, could you upload a few pictures of one that isn't damaged? Perhaps the other balance in this very same window. Thank you!
A home owner from Chattanooga, TN says:
July 31, 2012
Here are some more pictures. They are not old windows. They go up just fine - but will not stay up.
Tom from SWISCO responded:

July 31, 2012

Thanks for getting back to us! These pictures are much clearer, thank you. It sounds like there's a problem with the strength of your balances. Before we get into that, though, I just want to confirm what Series your balance is. This will depend on the nylon attachments. I can tell right off the bat that you have the

19-002

top attachment, but now I just need to know what bottom shoe you have specifically. I've narrowed it down to two choices.

Please look at the measurements for our

15-001

and

15-002

bottom shoes and note their depths. As you can see, they are 1-1/8" deep and 1" deep, respectively. Which measurement more closely resembles your own shoe?

Could you also tell me what the length of your metal channel is? Based on your stamp, it should be 28", but I would like you to confirm.
A home owner from Chattanooga, TN says:
August 2, 2012
Per your request the mesurement of the metal chanel on the balance is 28 inches. I have also included more photos with mesurements of the plastic end pieces. Due to the age of the windows I would also like to replace the plastic pieces on top of the corners of the windows that attach to the balances to keep them from sliding out, to prevent future breakage (photos included) please let me know if you require anything else.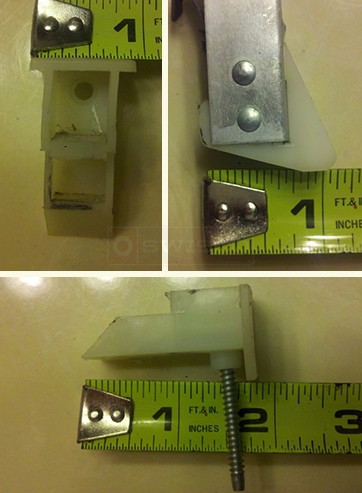 Tom from SWISCO responded:

August 7, 2012

Thank you for your patience in this matter. It appears that you have the larger shoe, our

15-001

. In that case, I would look at our

Series 390

channel balance. Does this appear to be a match?

As for the top sash guide, we are currently working on a possible replacement. We will post again in this thread as soon as we have more information available for you to view!
A home owner from Chattanooga, TN says:
August 13, 2012
It looks like 28"
Series 390
Channel Balance Product Code:
S390-28
with the
19-002
&
15-001
will be a perfect match for all 6 of my windows, any luck on the top sash guides? In addition to the photos of the sash guides gave you last time, I found a couple of stickers on one of the windows so I took a picture and I also took out one of the guides again and jotted down some messurements for you if that helps at all. (see attached)
I also have two smaller width windows that have the same
19-002
&
15-001
feet with a 28" channel but the stamp reads 27B B.S.I. (assuming the weight is less I will need a lighter spring) that I would like to get as well and do everything at one time if possible.
I can't thank you enough for all your help
Ocean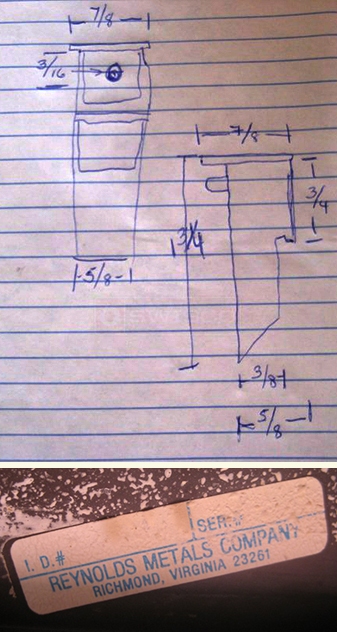 Reynolds Metals Company
Richmond, Virgina 23261
Casey from SWISCO responded:

August 13, 2012

Please see new SWISCO product code

18-038

, replacement top sash guide for a Reynolds window sash.