window pivot balance replacement
A landlord from St. Albans, Vermont says:
October 31, 2014
These photos are terrible and I'm not expecting a miracle - I had to be very fast as the tenant had a client waiting. I saw no numbers or markings and of course took no measurements, hoping I would recognize it from the parts photos you provided. I did not. One is broken and the other appears to be teetering on the brink of broke.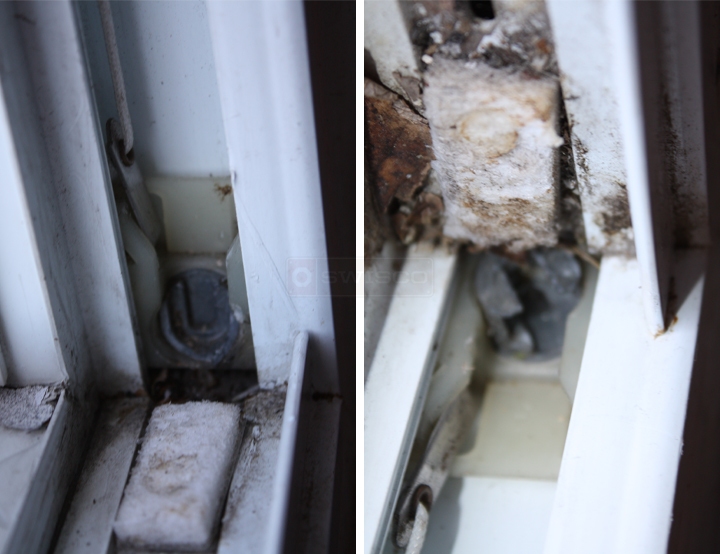 Paul from SWISCO responded:

November 3, 2014

Thanks for posting. From what I see in your photos, you have something like our 15-105 pivot lock shoe. This shoe also goes with our Series 785 channel balances. However, I'd like to see the pivot bar on the sash to make sure. If you can remove that and take a separate picture then I would have a better idea of what you have.
A landlord from St. Albans, VT says:
November 9, 2014
I don't know what a pivot bar is. I took a photo of what I think is the sash. I've locked everything down for the winter because the window was tending to blow in if the west wind got stiff. I noticed only one side has the slider still intact - don't know what to call the piece that slips into the groove to keep the window in place.
Paul from SWISCO responded:

November 10, 2014

Sorry for the confusion! The pivot bar is the metal piece that fits into the shoe shown in your first pictures. Did you see the

15-105

, though? I still think that would be our best match. What do you think?
A landlord from St. Albans, VT says:
November 10, 2014
Yes, I almost just ordered two of the 15-105's but your request for additional information gave me pause. Do you also carry the slider tabs and out-jutting piece that falls into the channel when the window is returned to normal positioning? I'm not sure if it's an assembly or one piece. It was in the second (also not great) photo I sent.
A landlord from st. albans vt says:
November 10, 2014
Now I see the part I just emailed you about is listed right under the pivot balance and looks also like the correct part - the Rollyson Tilt Latch -
26-194
and 193. Let me know if you disagree with the "match" with the photo I sent, but I think we're good to go. Thanks so much, Paul!
Paul from SWISCO responded:

November 11, 2014