Balances won't reattach, spring too strong?
A handy person from Los Angeles says:
May 30, 2013
I have non-tilt sliding windows with 27" channel balances (I think). They have been non-operational since I purchased my house and I dont have any knowledge of the make/model other than "IWC" logo on the latch.
I tried to re-attach the balances, but they won't stay attached. It feels like the springs are too strong for the weight of the window.
Can you please tell me which type/size balance I need for these. I have attached pictures of the measurement. I think it is the
Series 351
Channel Balance listed on your site, but I want to make sure before I order.
Please give me a phone number to call you to discuss this part.
Thanks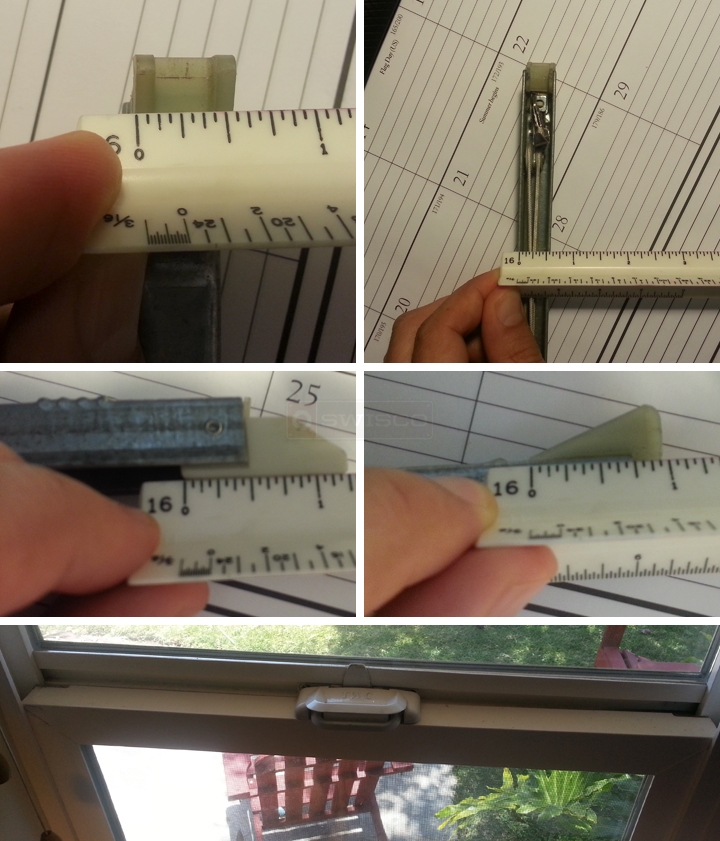 Paul from SWISCO responded:

May 31, 2013

Thanks for posting! I can't say if you have the

Series 351

or not without knowing the depth of your shoes. Do you have the

15-001

or

15-002

? Which is closer?

As for the string being too strong, you may want to change what stamp your new balance has. What is the weight of the sash? That will help us determine the best possible match for your window.
A handy person from Los Angeles says:
May 31, 2013
Thanks for the response. If you look at the picture, it looks to me like it is 1", so the
15-002
. The weight of the sash is 13.2 pounds when I use a scale. There are no markings on the window or channel, but I did find this label near the window after buying the house. I am not sure if this has any relevance for the window though.
Thanks again for the help
Tom from SWISCO responded:

May 31, 2013

Great. Check out our

Series 351

then. I think this could be a good match. You'll just need to determine the length of the channel. From there, you can compare the weight of 13.2 pounds to the option strengths shown in the chart.
A handy person from Los Angeles says:
May 31, 2013
I looked at the chart and the cut off is 9 to 13 pounds for the 2620 and then 13 to 19 pounds for the 2630. Which would you recommend if the weight of my sash is 13 pounds? What is the return policy if I want to exchange one for the other if it doesn't work?

Also, are all the "take out clips" the same length and diameter?

thanks!
Tom from SWISCO responded:

May 31, 2013