Balance identification help
A home owner from USA says:
October 3, 2016
I need following three different Channel balances: 2140 / 1940 / 1340
Do All of these come with the top and shoe? if not then I need those as well.
I believe following are the product numbers which I was able to locate on your website in regards to the channel balances I need.
I have a total of 7 windows each will need 2140/1940 and I have 2 kitchen windows which needs 1340 and I do not know the otherside one since each window require two channel balance with different sizes. I am not able to locate the old channel balances as most of them are missing from the windows.
Also, I believe that only the smaller channel balances need shoe not the longest ones. so in this case for 1940 only.
I have attached the pictures of missing/replacing parts I need. I believe I need take out clip as well but not sure. you may look at the pictures and let me know what parts do I need.
Take out Clip (16-009)
Top Tilt Latch (
18-027
) white
Hing Leaf Assembly (
15-058
) white
Channel Balance Top, Silver (
19-008
) white
Channel Balance Shoe, Silver Line (
15-025
) white
Thank you
Regards,
Mudassar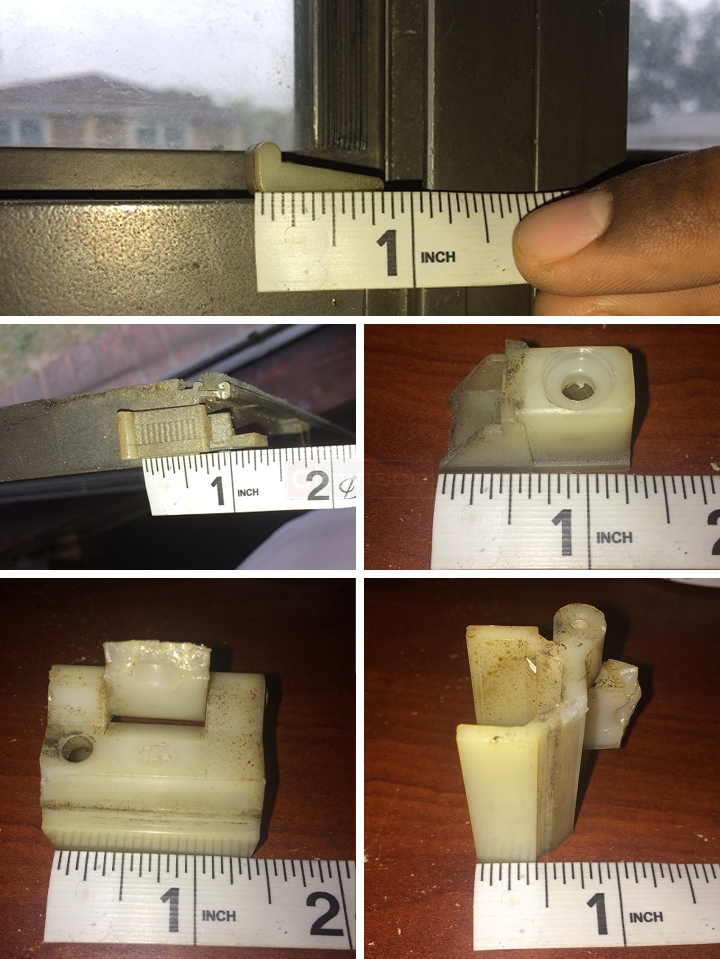 Tom from SWISCO responded:

October 6, 2016

Thanks for posting, Mudassar. This one is going to be a little complicated, more so because you are missing some balances. I will try to be as thorough as I can.

First, the numbers you gave us (2140, 1940, and 1340) are not identification or product numbers. They only tell us how strong the spring is. That's it. When it comes to identifying balances, there's a lot more that goes into it, especially in your circumstance. You have very special hinged windows that use asymmetrical balances; that means that the two balances on each side of the window ill not be the same. They will have different tops and shoes, and different stamps. We need to figure out what kind of configuration you need in each case.

The first and biggest difference between each balance in your window is that one has both the top and shoe, but the other only has the top. The second balance has no shoe at all. The top is our

19-008

and the shoe is our

15-025

. To reiterate, one balance will have both the

19-008

and

15-025

, but the other balance on the other side of the window will only have the

19-008

. These two balances will also have two different stamps.

I will need you to go through each window and tell me the following pieces of information: 1) The length and stamp on each of the two balances in the window.

2) Which of the two has the

19-008

and

15-025

, and which of the two has only the 19-008.

3) How many of each you need.

Once we have that information, we will then need to custom make these balances, as they are not a standard configuration. When giving me the above information, please make sure to separate each group of balances as specifically as you can to avoid confusion. You can split them up by Window A, Window B, etc. That might help.

Let me know if you'd like me to clarify anything.
A home owner from USA says:
October 7, 2016
Hello
Unfortunately, in the whole house, I was only able to locate 4 channel balances none other have it.
Window A: (for rooms and living/dining)
Stamp 2140 (length 22") with top (19-008)
Stamp 1940 (length 20") top is broken and only very small piece of top plastic is attached but my guess is its same as (
19-008
) and the shoe is missing but i am assuming (
15-025
) will work.
Window B: (for kitchen windows)
Stamp 1340 (length 14") with same top (19-008)
2nd channel balance is missing in all windows B. So, I do not have its asymmetrical channel balance number or its length but may be any of you old customers bought these kind of channel balance and you may figure out from there?
I need (22" 2140) 13 of these
I need (20" 1940) 13 of these
I need (14" 1340) 2 of these and it's asymmetrical which I don't have any information will be needed 2 as well.
Thank you
Ordered placed: #813195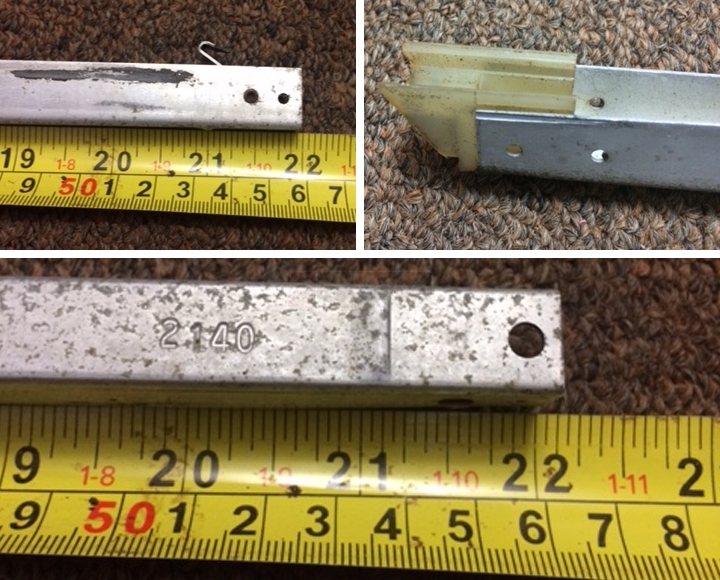 A home owner from carteret, NJ says:
October 10, 2016
I was able to locate some more channel balance and following are the pictures of Channel balance stamped (1940) with its shoe which is (
15-025
).
can you provide update on whether you were able to get my channel balance order?
Thanks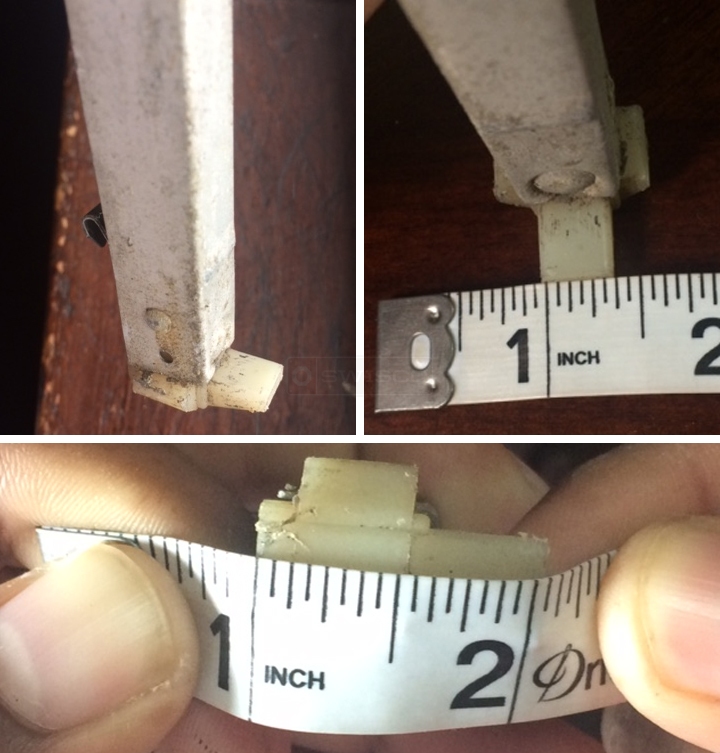 Tom from SWISCO responded:

October 14, 2016

Thank you! This information is very helpful. There is one thing that gives me a little pause, and it's the difference in length between the 2140 and 1940. While the balances are asymmetrical, the lengths are still typically the same. It sounds like that these windows had some repairwork performed on them across the board, so perhaps one of the two types was an on-site repair.

Concerning the opposite side of the 1340, it's a little easier to nail down. I'm confident that another 14" balance with the

19-008

and

15-025

will work. I'm not sure exactly what option it is that you need for this one, but there are cases of two balances on both side using the same stamp. This isn't exactly common, and I suspect that this is also an "on-site" repair that handy people use for lack of any clearer information. There is a risk that your windows will not operate quite as well as they used to, but without knowing the other option it will be very difficult to determine what is actually needed. With both balances having the same option, I think the difference in window operation will be minor, at worse.

I will send you a custom order form for four types of balances; the 2140 and 1940 for Window A, and the 1340 and another 1340 for Window B. Let me know if you'd like any changes to be made.
A home owner from carteret, NJ says:
October 14, 2016
Thank you for the links to place the orders.
First-
How long does it take to get the product at my home since they are custom made? so then maybe I can order 1 or 2 each and check to see if it works fine and then go ahead and place the order for all windows that I need.
Second-
when you say that my windows will not operate quite as well as hey used to. what exactly it means? because I was able to (pull up and down) one of the window's sash which had the both balances in it with 2140/1940.

Thank you
A home owner from Carteret, NJ says:
October 14, 2016
Also which kind of take out clip do I need?
I have holes at the center of the window on both sides. So do I need the takeout clips (
16-002
) on both sides and there are double holes. Since doubles holes are next to each other so the bottom is for the terminal clip and the top is for the takeout clip?
I also have a plastic on the top as well which looks like your product (
16-009
) so I am really confused. Kindly reponse for these as well so then I could place the order for everything.
Thanks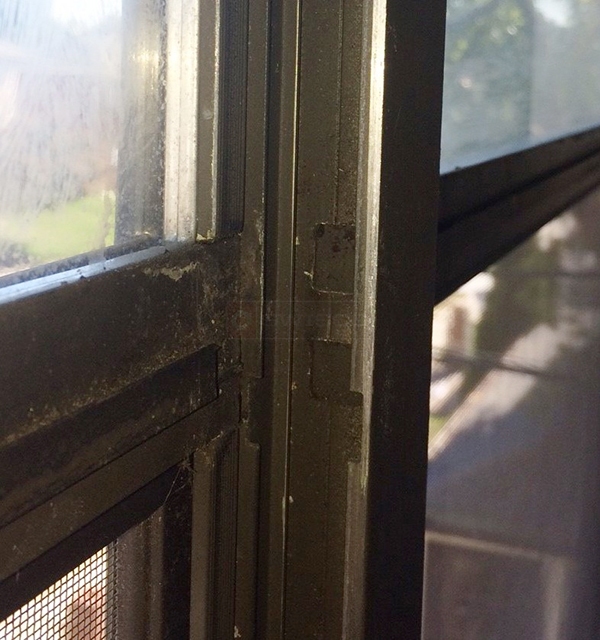 Tom from SWISCO responded:

October 19, 2016

It shouldn't take long for us to get these balances out to you, we have everything in stock at the moment. As for the take out clip, the

16-009

is what is most commonly used in this setup. I can't confirm if you have something different in your window for whatever reason, but the

16-009

is what is recommended.
A home owner from Carteret, NJ says:
October 19, 2016
How do I install the channel balance, do you have any video to show or explain please.
As I mentioned earlier post that those two holes are next to each other. So I will attach the terminal clip at the bottom hole but then how do I hold the channel balance inside at its place before putting on the sash?

Thanks
Paul from SWISCO responded:

October 25, 2016

Hopefully I can help with installation instructions! I haven't worked on this window in over thirty years, but I will try my best to walk you through it. First, replace the hinges (

15-058

) and tilt latch (

18-027

) on the sash. Attach the sash with the hinge to the window frame, and leave it open. You will need the

16-009

take out clips on both window channels to install the balances before swinging the sash in place. Look at the video on "How to replace a window sash channel balance" on the right side of this page. This step works on the same principle. The balance without the shoe is for the hinge side and the balance with the shoe on the opposite side. Once the balances are in place, swing the sash closed and carefully pull the sash down to engage the balances to the sash. Hopefully this will work for you.