Bottom cover of sash--how to remove?
A quick learner from new jersey says:
November 25, 2014
I have the parts and was ready to replace the pivot bar that had rotted off on both sides of the upper window, but when I got the window out I noticed it was not like the bottom window that I just fixed where the pivot bar is exposed and easy to screw out. The upper window's pivot bars are covered with what apparently is a piece that connects to the bottom window from one end to the other. Not sure how to explain it so I've attached some photos.
By the way, the
26-089
pivot bars worked perfect on the bottom windows, so I'm assuming the tops are identical.
The question is, does this piece covering the bottom of the window where the pivot bars are located, just snap off? Or is it glued on? It covers the entire bottom and believe it connects with the groove to the top of the bottom window where the locks are. I'm afraid to just pry it off without knowing what I'm up against, but I can't see changing the pivot shoes without removing it.
Thanks very much,
Paul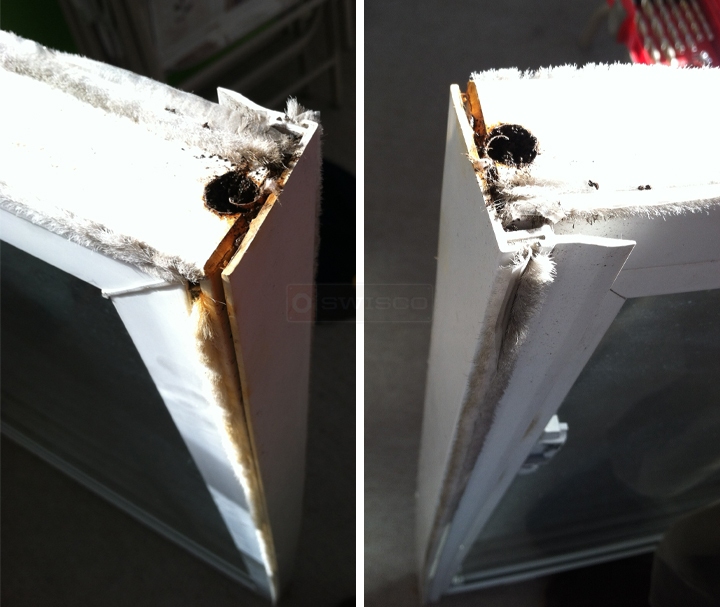 Dave Sr. from SWISCO responded:

November 26, 2014

I have two thoughts on that vinyl strip. First, I believe it could snap off, but that might also damage it in the process. Would it be better to leave it in place and just drill a hole in it to access the set screw in the pivot bar? Either way, make sure the sash is in a warm place. You don't want the vinyl to become brittle with the cold weather.
A quick learner from new jersey says:
December 1, 2014
Thanks Dave! I think that is a brilliant idea and more likely to work than taking a chance in taking that strip off and damaging it. It seems to be pretty tight on there, almost unmovable that it feels like will crack to get it off.

Thanks so much!
you guys are great as usual!
Paul
Dave Sr. from SWISCO responded:

December 2, 2014

It was my pleasure, Paul. If you need anything else, feel free to ask.