Broken balance: Unique Balance 29-D-40 for a Bonneville tilt double hung window
A quick learner from Vermont says:
June 19, 2015
My house was built in 2003 and the builder installed Bonneville brand windows and the window balances were manufactured by Unique (both now defunct companies). The concern is the inner sash of a double-hung tilt window.
The left window balance broke. We've always struggled when closing most of our windows in the house. Muscle strength is required as they're difficult to pull down. The balance in question is marked "UNIQUE 29-D-40" and it measures 30" in length. It's a block and tackle system. The cord broke and I'm guessing the spring shot upwards thus creating the hole I know have in the top of the window casing. After removing the balance from the casing I noticed two screw holes where the upper part of the channel was secured to the jamb indicating the installer had an issue when installing the windows.
The pivot shoe appears to still be usable but I couldn't remove it for precise measurements as the channel track has styrofoam glued halfway up - which is where the balance bottom rested and the cord became visible at the bottom of the channel.
Q1. What are the proper replacement parts for this balance? (I know I should buy a pair and replace the unbroken one as well.)
Q2. Is there a better balance system to buy that will fit this window unit?
Q3. Do we need to stick with a 40lb balance set? (how to improve sliding of windows beside cleaning the tracks better)
Measurements:
Sash - app 34"w by 32 1/2" high. weighs 24-25lbs on home scale.
balance - 30" long 9/16" wide 17/32" deep
pivot shoe - approximately 1 1/4" wide, 1 7/16" high in the middle, 1 1/4" high at left and right side, about 1/2" deep
channel track - 1 5/16" wide?, 5/8" deep?
I have additional photos I can provide. Thank you!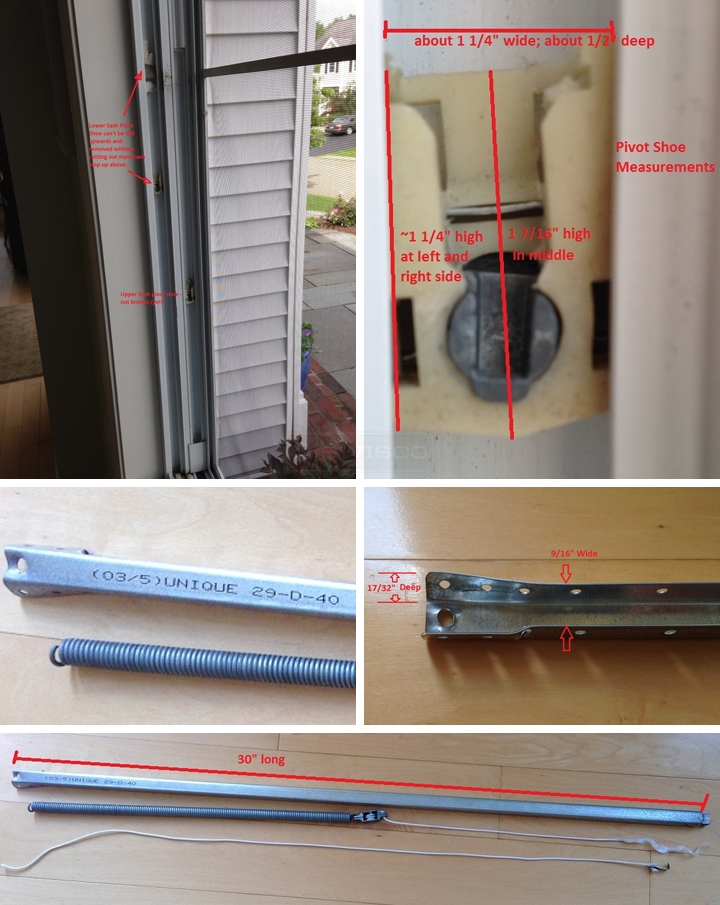 Paul from SWISCO responded:

June 23, 2015

Thanks for posting. I think we can help you replace this balance, but the mechanism you need has to be custom made. We can help you make them, but I will first need to know exactly how many you will need.

I also suggest just replacing the broken balance. I can't believe it, but it appears the Styrofoam is glued to the frame. See if you can replace balance without removing the styrofoam.

To replace the balance, install it at the top and use a pair of needle nose pliers hook the clip to the balance shoe.

As for the stamp, I would custom make it with a stamp option of 30D. Two 30" long balances with this option can hold a sash weighing 24 through 29 pounds. You might also want to try some silicone spray on the track if you haven't already.
A quick learner from Vermont says:
June 24, 2015
It sounds like just replacing the balance would be the simplest option. I don't need to remove the styrofoam to replace the balance. I would only have to remove the styrofoam if I were to remove the balance shoe from the track.

I'm not sure what mechanism has to be custom made?

For the window sash that's effected, I need to replace the broken left balance and the right balance (so that's two balances).

Do you have something in stock or is a custom build necessary? (such as your proposed 30D) Either way, I need your help and would like to order what's needed.

Paul from SWISCO responded:

June 25, 2015

The balance is what will have to be custom made. You have a unique setup that doesn't come standard, unfortunately. The key here is the type of metal channel and hook you're using. It's not a typical combination. In this specific instance I would be using our

Series 770

balance, but with a

62-105

hook instead of the usual hook.
A quick learner from S. Burlington, VT says:
June 26, 2015
I would like to order balances as discussed with Paul in this discussion 55173.
I need two, one for each side of the window. I may order additional pairs depending on cost. Please email or call me to discuss.
Paul from SWISCO responded:

June 29, 2015

Thank you. I have emailed you a custom balance order form, which includes a price quote. Let me know if you have any other questions.
A quick learner from Wilmington Vermont says:
May 1, 2017
I have the same issue, we're you able to solve the problem with custom made parts replacement?