Channel Balance type
A quick learner says:
July 17, 2014
Hi, I think I've identified our balance as your
series 385
channel balance. The metal part is 34". It looks like it has the 19005 top and 15004 shoe. The number stamped is 33 4 CN CALDWELL. Would this correspond to the 3340 stamp option?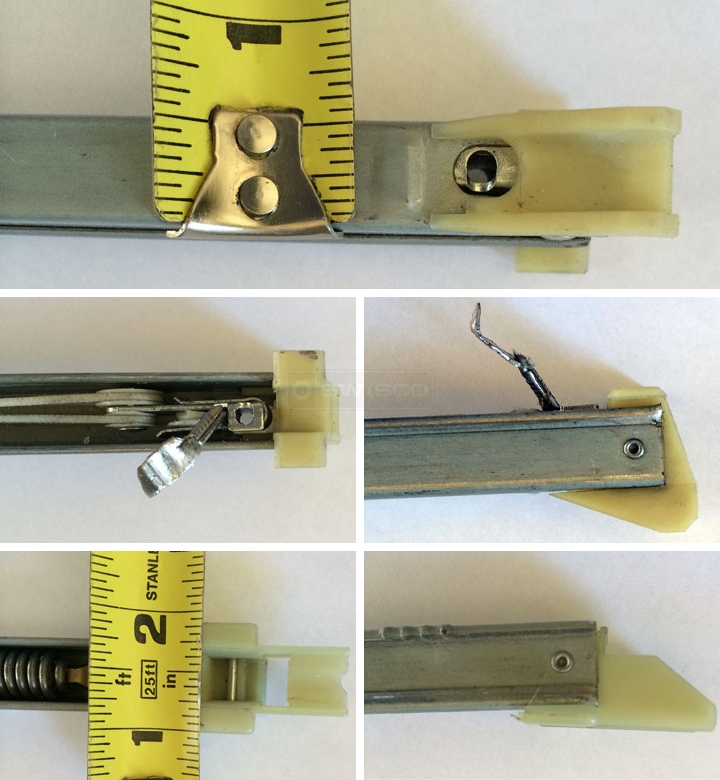 A quick learner says:
July 17, 2014
Take out clip - ours is bent - I think it's the 16-002.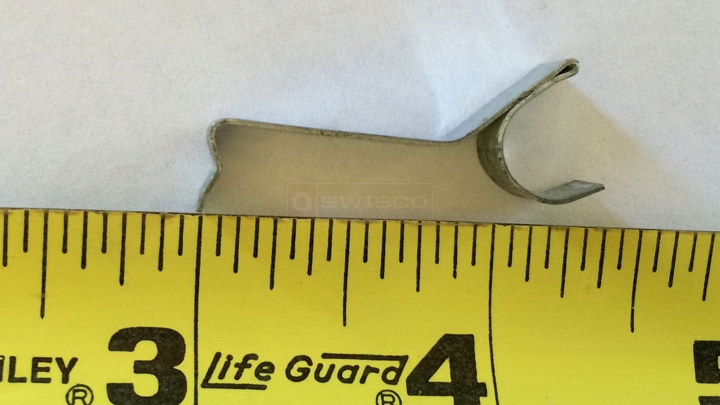 Paul from SWISCO responded:

July 21, 2014

Yes, that looks like our

16-002

take out clip. As for the stamp, if it reads 33 4, then I think our 3340 is the best choice. You may want to weigh your window sash just to be sure.
A quick learner says:
July 21, 2014
I weighed the sash, and it seems like it's only around 18 lbs. Maybe the previous owners of our house had the wrong channel balance on the windows? What happens if I get a channel balance that is meant for a heavier window?

Sorry for all the questions, but I am determined to fix this window myself!
Tom from SWISCO responded:

July 22, 2014

No, these are good questions. If the sash is only 18 pounds, then it's probably best to go with either the 3320 or 3330 options (depending on which side of 18 pounds your sash weight seems to favor). It's possible that the original owners thought that a stronger spring would make the windows work better, which is a common but erroneous assumption. These are delicate systems, and it's always better to get a spring strength that is just right.
A quick learner says:
July 23, 2014
Well, this is enlightening!

Window that has been giving me the most trouble, channel balance broken: approx 17.9 lb.
33-4 balance
33-3 balance

Window on other side, (should be same size), stiff sometimes approx 17.5 lb
33-2 balance
33-4 balance

So it looks like I'm getting 4 of the 3320's. I guess I can add this to the list of MANY things in this house that the previous owners did wrong.

Thank you for your help!

Tom from SWISCO responded:

July 24, 2014

So there are different stamped balances in the same window? Both balances should have the same stamp. It seems the original owners were a little confused! But you're dead on, the 3320 is the best choice.
A quick learner from Dove Canyon, CA says:
August 5, 2014
Hey, I just wanted to say that you guys are AWESOME! I installed the balances that I ordered from you - piece of cake to install - and our windows work SO well now! I can open the window up with just a finger or two, whereas before, it took two hands and a lot of aggravation. Thanks for providing this discussion board, I couldn't have done this without your expertise and personalized attention! I am now going around my house to see what other doors/windows need fixing.... Thanks again!
Tom from SWISCO responded:

August 5, 2014

Not a problem, my friend. We were more than happy to help. If you have any other questions, please let me know and I would be happy to help.