Channel balence and hinges
A landlord from Somerset says:
May 18, 2016
I need model number:
1 pieces of #1340
1 pieces of #1330
2 pieces of #1930
2 pieces of #1940
5 pieces of #2230
5 pieces of #2240
4 hinges
1 replacement window glass (25x22.5)
window seal (gasket) for 7 windows
The metal channel width is 1/2 in
The depth is 5/8
The hinges allow the window to swing open like a door on one side. On the other side, the small black piece on the bottom of the metal channel are there to hold the window when it is not opened up like a door.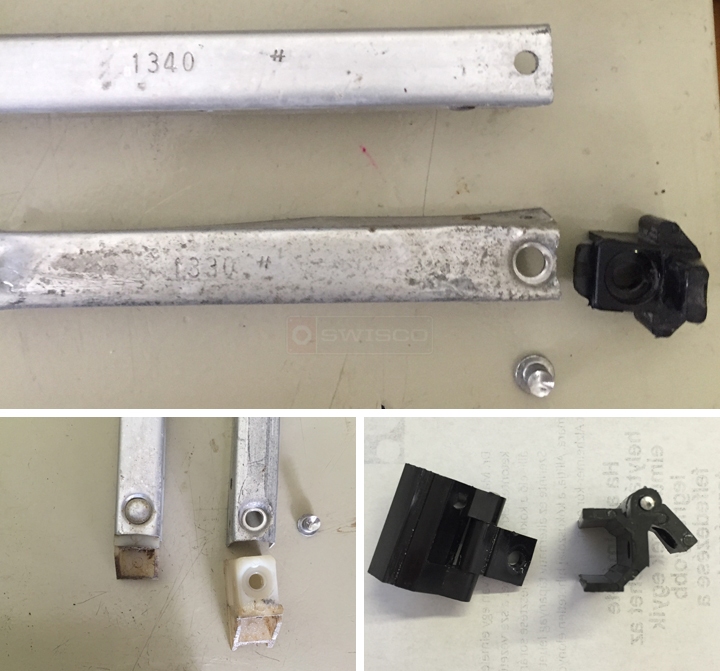 Tom from SWISCO responded:

May 20, 2016

Hello! We can definitely help, but we will need to clarify a few things first. This particular type of balance can get a little complicated. Please bear with me.

First, am I right in assuming that you need these balances in pairs? For example, do the 1340 and 1330 go in the same window? Same for the 1930s and 1940s, as well as the 2230 and 2240 balances? That's usually how these hinged balances go. The thing is, those stamps only tell me the weight of the sash. They do not tell me what the nylon attachments on each end are.

That's where it gets a little complicated. These balances typically use our

19-008

top and

15-025

shoe. Look them over and tell me if you agree. We have to custom make this, however in each pair (1340 and 1330 for example) one balance will be missing the

15-025

shoe. In your three cases, I do not know which one is which. If you can, please specify which stamped balance uses which attachments (both the

19-008

top and

15-025

bottom, or just the

19-008

top by itself).

Once I know that, we can email you a selection of custom product links that you can add to your cart, in addition to the price for each.

As for the other parts, the hinge is likely our

15-058

. I am not sure about the gasket. Could you show me a picture of its profile? Thank you!
A landlord from Somerset says:
June 1, 2016
Hi thanks for getting back to me. Yes I need the balances in pairs. The 1340 and 1330 go on the same window and so on with the rest. These pictures are of the inside of the channel. If you could get back to me with the link to order it I would really appreciate it, Thanks!
Tom from SWISCO responded:

June 2, 2016

Thank you! That's good to know. How about the shoes on your balances? In each pair (1340/1330, etc.), is one balance missing its shoe? It looks like in the first case, 1330 has the shoe but 1340 doesn't. Would this be the same case for the rest? Sorry if it's a little confusing; these balances even flummox me sometimes. I just want to be 100% sure we get everything right. This should be the last piece of information we need and then I'll shoot over the appropriate information.
A landlord from somerset says:
June 5, 2016
Yes that is correct about the shoes. The hinges, shoes and top are correct. Thank you
A landlord from somerset says:
June 7, 2016
thank you for the links.I ordered them.But I need the link for the hinges and window seals / stop air circulation from inside to outside.
Tom from SWISCO responded:

June 8, 2016

Oh sure, sorry about that. there are a few possibilities for the hinges. You can see what we carry

here

. I'm not sure about the seals, either. There are many more possibilities on that front, I'm afraid. Check out our

weatherstripping section

and see if anything here might match.

Thanks again for your order. Please let me know if you'd like me to clarify any of my suggestions.