DEL MAR ENG CO 3,670,357 single wheeled roller
A home owner from California says:
June 2, 2011
I called and spoke to a repesenative and they said to send pics and measurements. I am looking for about 10 of them
The wheel had this stamp:
Stamped:
PRODUCT OF
DEL MAR ENG CO
LONG BEACH CAL
PAT 3,670,357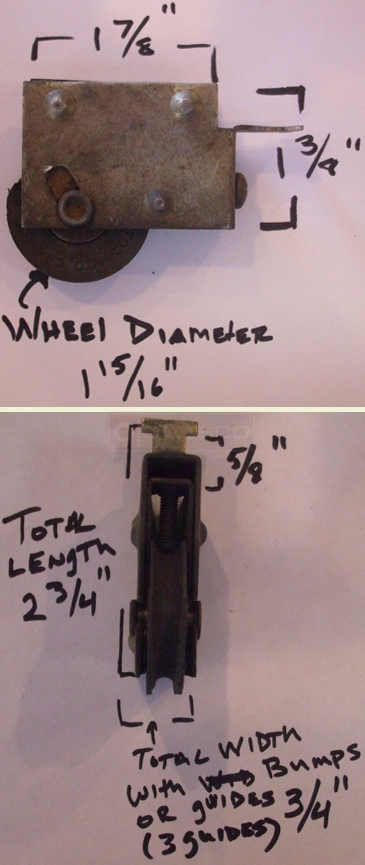 Tom from SWISCO responded:

June 8, 2011

Good Morning,

Thank you for your patience. I am currently in the process of researching possible replacement rollers. I will post an update as soon as I have more information to share.
Casey from SWISCO responded:

June 24, 2011

This particular style roller with the T-tab design has been discontinued by Del Mar. We are still working on possible substitutes for you.
Casey from SWISCO responded:

July 19, 2011
A quick learner from Marietta GA says:
September 8, 2011
The part is a Del Mar Eng Patent #3,670,357, it also has the #1 stamped above the name. 2-3/16 l x 1-1/2 h x 3/4 w.
Tom from SWISCO responded:

September 9, 2011
A home owner from new jersey says:
December 21, 2011
A home owner from santa monica ca. says:
May 21, 2012
sliding door roller assembly wheel is broken -
we currently have a del mar engineering, long beach, california pat # 3,670,357 we are trying to replace.
Do you have a replacement wheel that would work
The closest we found was your product code
81-148
- but we can't tell if it is an exact match..
Tom from SWISCO responded:

May 21, 2012

Thanks for posting! I placed your inquiry in an existing discussion regarding the Del Mar Eng Patent #3,670,357.

A home owner from Nevada says:
June 7, 2012
A home owner from Sacramento, CA says:
December 7, 2014
Today I was ecstatic when the
81-148
rollers fit my 1976 roller doors (wheels Del Mar engineering, Long Beach, CA, Pat 3,670,357)! I lived with a bum wheel on one of the doors for 10 years now, and ordered 4 of the wheels
81-148
, and although the dimensions varied by 1/8 to 1/16, and the tab was different than my original wheels, they fit great. The wheel diameter was important though, I think, although it is adjustable, and there was plenty of wiggle room above the sliding doors in the top chase. Minor adjustment needed on leading wheel when installing - I needed to bend tab up to fit into slot of door. But worked like a charm, along with the Slider Slicker with teflon - doors run super smoothly now. Adjustable wheel position not necessary for me, but adds that flexibility.
Thank you!
Patrick