Determining Proper Spiral Balance
A handy person from Horsham Pennsylvania (19040) says:
May 6, 2011
I am trying to determine the proper diameter and length for replacement spiral sash balances:
(1) From your picture it appears that the "tube" I should be measuring for the proper diameter is solid aluminum. My original balancer had a plastic tube covering the spring which has subsequently crumbled away (see photos). The spring itself has a diameter of 55/128" so I'm assuming I should be looking at series 600 (5/8") replacement. Is this correct?
(2) Also because there is no remaining intact tube, and because the spring is broken, I'm not sure what is the proper replacement length. The twisted core measures 21-5/8" from end-to-end so, again comparing with your photo, I'm estimating a replacement length of 21". Is this correct?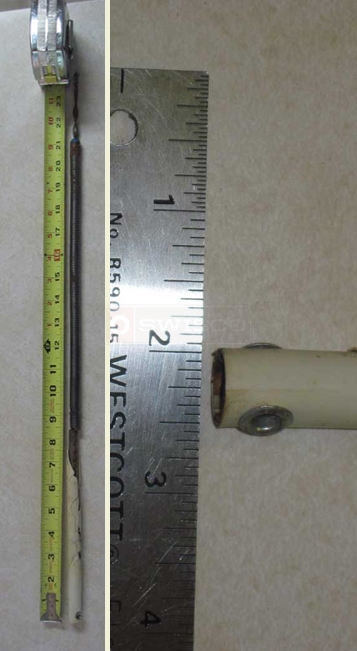 Paul from SWISCO responded:

May 9, 2011

Good Afternoon,

Yes, it does seem like the correct balance replacement would be the

Series 600 Spiral Balance

with the blue tip option.

Your current balances have blue tips, correct?
A handy person from Horsham Pennsylvania says:
May 9, 2011
Yes, the tip is blue. Do you agree that, from my picture, the 21" length is OK? Can this be off in either direction by an inch and compensated for by adjusting the tension?
Paul from SWISCO responded:

May 10, 2011

The

S600-21

with a blue tip is what you need.

If you were to get the wrong length you could possibly make up for it by installing the balance at a different height in the window frame, but it is a lot easier to install the exact height you need.