Do I have to replace pivot shoes?
A handy person from Abingdon, MD says:
March 13, 2012
I will be replacing my spiral sashes with the
S900-28
(both color tips for different size windows). I have two questions:
1. Do I have to replace the pivot shoes, or only if they're broken? If I have to replace them, would
15-045
be the right one (I have attached a picture because I wasn't able to remove the shoe at this time since I would have to cut an opening)?
2. The other picture attached are plastic pieces that fit into the channel to cover it. Do you offer these also? The long one is about 30" long by 1.5" wide (it is bent to that size and clips into the sash channel). The short one is a clip about 2" long by1.25" wide (it has clips on the back about 3/4" wide that clip into the sash channel at the top to hide the screw in the balance).
Thank you for your help.
Eric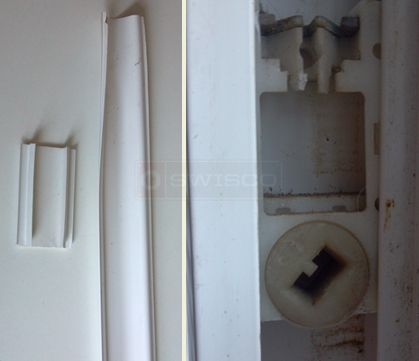 Paul from SWISCO responded:

March 14, 2012

Thanks for posting, Eric! You don't have to replace your pivot shoes when replacing your balances, but if they're older and have a lot of wear it might not be a bad idea.

That said, your pivot shoe looks very similar to our

15-046

. Please take a look at that and see if you think it would work for you.

Furthermore, our

15-046

shoe usually goes with our Series 600 spiral balance, not our Series 900. If you do have a

15-046

, please take a look at our

S600-28

to see if that might better match your current balance.

As for the channel covers and stops, I'm afraid that we do not carry this type of hardware. You may want to check a local glass shop to see if they can help you out.
A handy person says:
March 14, 2012
Paul,
Thanks so much for your quick response. Your right, the
15-046
does look like a better match and after trying to measure the channel it looks like the right size.
As for the spiral sash, I measured the vinyl cylinder and they're definitely 3/8" (with a yellow tip). They are original "builder" windows from about 1991. Should I replace them with the 5/8" (S600) or keep the original size of 3/8" (S900)? As for the tip color I'm planning on using the red tip for the smaller windows (about 12-14 lbs.) and the green tip for the 3 bigger windows (couldn't weigh them but they're about twice the width of the smaller windows).
Again, thanks for the information and help. Once I replace mine I will definitely refer the neighbors here if they decide to fix theirs.
Eric
Paul from SWISCO responded:

March 16, 2012

Since the manufacturer used 3/8", I think you should stay with the S900. The colors you picked out should work.