Double Hung Windows
A home owner from Alabama says:
November 4, 2017
We have 9 double hung windows in our house. 5 out of the 9 will not remain open when you raise them. If you were to raise the bottom half of the window they would free fall shut if you let go of the window. There is a sticker on the window that tells the make date, sales order, and warranty code but do not know if that information would be helpful. The make date 08/16/1999. Sales order 60716631 and warranty 02414754. I do not know if it would be possible based on the attached pictures to identify the window manufacturer to see if these windows could be repaired under warranty. If not, I would like to know how easy it would be to replace any/all broken parts that will make these windows raise open safely and remain open without slamming down shut. Very dangerous in my opinion. You can see in the attached picture a spiral rod that is broken on the bottom left corner of this one window. There are some windows that the top half will slide down but not drop all the way so we would need a mix of parts on multiple windows to hopefully get these fixed.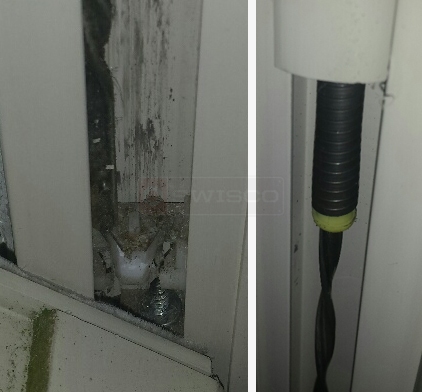 Paul from SWISCO responded:

November 8, 2017

Your balances were made by Unique balance company that has since closed. We have a similar product that may work for you, our

Series 600

spiral balance. It's a 5/8" thick metal tube spiral balances instead of plastic tubes.You will need the tube length when ordering. Our

75-006

charging tool would also be helpful, especially for the top sashes that are creeping down. The spiral balances may just need a turn or two to hold the sash up.
A home owner from Alabama says:
November 8, 2017
Can you provide the part for replacement pivot shoes I will need? I would rather go ahead and replace them since I will be replacing the spiral balance rods anyway. I am sure the pivot shoes are shot too. Thanks for your helpful response.
Paul from SWISCO responded:

November 9, 2017

I'm confident we have something that can replace it, but I can't make out what you have from your picture. If possible, I'd like to see it out of the window. I will also need its width and thickness.
A home owner from Alabama says:
November 10, 2017
Thanks. I will see if I can get a measurement on one of the pivot shoes so I can the correct size. One last question and first, thank you so much for your help so far.

I removed 2 of my lower sashes on 2 of my windows today. I measured the spiral balance rods on both windows. The diameter of the spiral balance rods are 3/8". Will the diameter of the spiral balance rods matter if I were to get new rods, 3/8" vs. 5/8"? Since the windows currently have 3/8" should I just go back with 3/8"? Or can I used the 5/8" and it be a better solution?

Also, on one of the two windows the pivot shoes free falls. I can take one finger and flip the pivot shoe up the track it slides super easy and freely in the track back down. The pivot shoe on the other side of the windows has resistance. It stays put where you stop it and there is no slack in it at all. So what can you tell me about the issue with the pivot shoe? Should they free slide easily with a small flick of the finger? Or should they have resistance and be hard to move?

If the pivot shoe slides easily and indicates a problem, will replacing the pivot shoe with a new one fix the problem or does that indicate that side of the window vinyl track has expanded and a new pivot shoe won't fix the problem? Or can the pivot shoes by tightened so they don't slide freely? When I remove the spiral balance rod from the pivot shoe it free falls to the bottom of the window track.
Paul from SWISCO responded:

November 13, 2017

If your original balances have a 3/8" diameter tube, then stick with that. See our

Series 900

spiral balance. The larger balance doesn't work better or worse than the skinnier balance, they're just two different kinds of balances meant for their own respective applications.

As for the pivot shoe free-falling, there could be a few problems. It sounds like the shoe that falls isn't locked. Turn the center cam with a screwdriver and see if that keeps it secure in the track. When you remove the sash, pivot shoes lock into the track so they don't fall, allowing for easier balance replacement.
A home owner from Alabama says:
November 13, 2017
Thank you so much for your help and patience. I was able to adjust and tighten the spiral balance on the window where the top sash would creep down. So that one is now fixed.

I am definitely going to have to replace the spiral balance rods on the other windows. Before I place an order I have at least 3 more questions if you could help to answer.

1. I measured my balance rods but they measure 17 1/2", etc. This is measuring from end of rod to end of rod excluding the colored tip. So with this odd measurement would you round your measurement up or down to the nearest whole inch? Meaning if rod measured 17 1/2" would you go with a 17" or 18" rod?

2. If you have a window sash weight that falls within 2 weight ranges of both a blue and red tip, which would be correct to select and how do you determine when to go with what tip based on weight in this scenario?

3. I checked the pivot shoe and it will not lock into place. Is it critical these be replaced when they don't lock? I do not have a cutout to remove the shoes. So I will have to either cut out a notch or order the jamb spreaders to remove and replace these unless they are OK to remain as is.

Thanks.
Paul from SWISCO responded:

November 14, 2017

If your balance is 3/8" thick and the tube measures 17-1/2", move up to the

S900-18

. Weigh your sash, as well. If it is less than 16 pounds, use a red tip. If it is over 16 pounds, go with the blue tip. When you tilt in the sash, the shoes should lock in place. If not, you will need to replace the pivot shoes. Your windows are old, and I'm afraid the vinyl frames are brittle and they could crack using a "jamb spreader." Go with the cut-out method, shown in a video on the right side of the page. Remove your shoe and take a picture if you need to identify it.