Jordan Window Balance Replacements
A home owner from St. Louis, MO says:
April 25, 2011
I have two "Jordan" windows with 2 broken balances. So a pair of balances for each window, total of 4 replacements needed. The top "cap" has broken and the balances have sprung out of the top of the window frame. I have attached photos, both of the broken balance and one of the top of a still functioning window. They have the # 2830 on them. Can you provide replacement balances? If so, can you provide me with a list of parts and any tools I would need to replace the balances, as well as pricing for placing an order? Also, what is estimated time to deliver once order is recieved.
If you need additional info, please let me know.
Thanks,
John S.
Paul from SWISCO responded:

April 25, 2011

Good Morning John,

When identifying the proper replacement channel balance series for any window, it is important to see both the bottom and the top balance attachment. You cannot see the channel balance attachments without removing the balance completely from the window sash.

That being said, in the past Jordan windows often use the

S390 balance series

. The S390 channel balance is likely the replacement series you will need but the only way to be sure is to remove one of your existing balances and compare the attachments on your balance to the attachments in the S390 product picture.

If you need help, remove the balance and take pictures of both the top and bottom. Submit those pictures here for us to view and we can then confirm exactly which balance series you need.

Your stamp 2830 refers to the size and strength of the balance. You will need a 29" balance with the stamp '2830'.

Channel balances are sold complete with their attachments already fastened to the new balance. The balances are made to order and can ship as fast as one business day (depending on the shipping speed you choose at checkout - see our complete

shipping policy

). Here is a guide on how to remove and install channel balances. You can ask questions here if you need help.
A home owner from St.Louis says:
May 6, 2011
Ok,thanks. I will try to confirm. Is there anything else I would need to order, either parts or special tools, in order to replace the broken balances?
Paul from SWISCO responded:

May 9, 2011

John, the only other thing I can think of would be to replace your

take out clips

.
A home owner from St. Louis says:
May 13, 2011
Ok, apparently what I really need is the top cap on the window sash. That is what broke, allowing the balances to break free and shoot to the top of the window.
Here are some photos, including top of unbroken window, top of broken window, and the part after I removed it an glued it back together.
Can you tell me what replacement part I would need?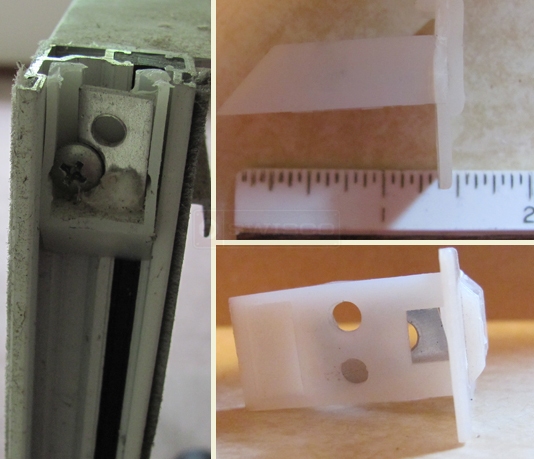 A home owner from St. Louis says:
May 13, 2011
Also, as a follow up, here is the bottom of the balance. It looks close to the one you proposed, but thought I'd send the photos anyway to see what you thought.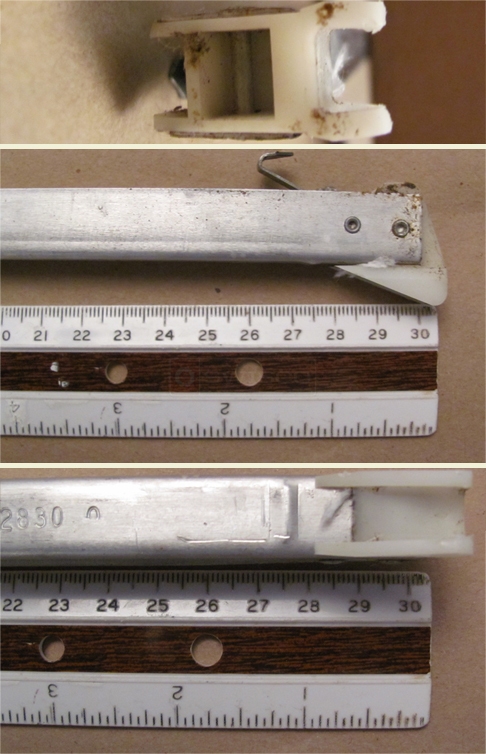 Mike from SWISCO responded:

May 24, 2011

Thank you for your patience.

We have identified your channel balance as the Swisco

Series 390-29" Channel Balance

. You will want to select the stamp option 2830.

As for your top sash guide, we were unable to locate a proper replacement. I will post an update on the discussion board as soon as I receive more information.