Kinco window parts
A quick learner from USA says:
May 23, 2016
The balance has writing that is not too clear in the picture, but says: 29 9 HW CMC 11. There are no numbers I can see on the end pieces ( I need 2 of them for the top left and right of the window. For the latch, I did not take a picture of the broken one, but a picture off the adjacent window. I need 1 of those (If it matches).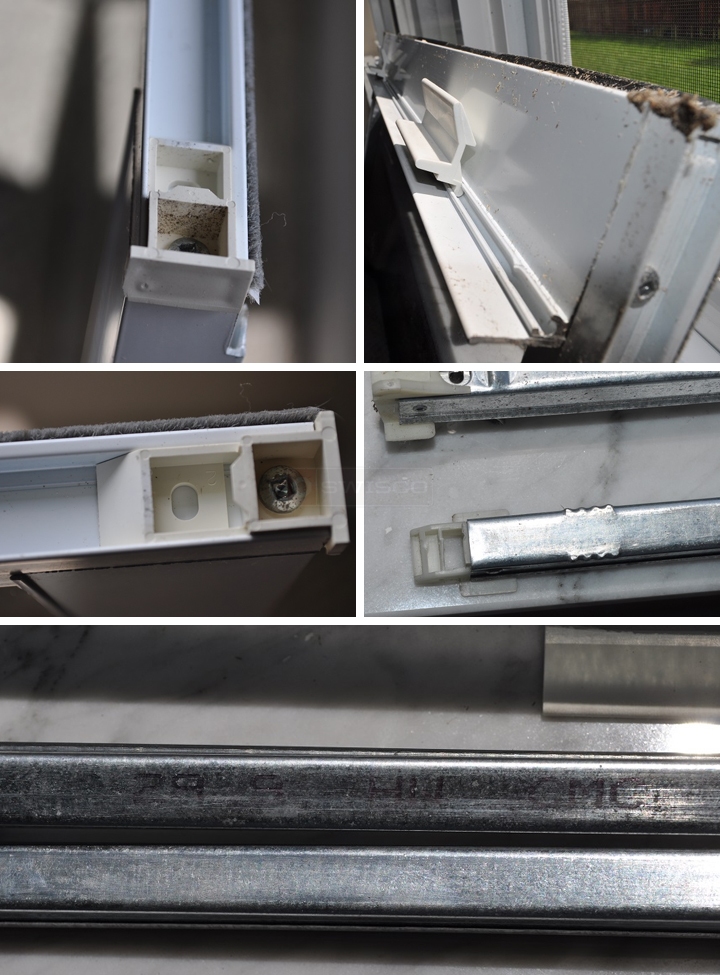 Tom from SWISCO responded:

May 25, 2016

I believe your balance could either be our

S380-30

or

S385-30

, but I can't tell for sure which. You will need to measure the depth of your bottom shoe to confirm which of ours is the better match. The bottom shoe depth is the only difference between them. We list detailed dimensions on each balance's specific store page.

As for the stamp option, "29 9" uses an old rating system no longer in use. You will need to weigh your sash on a scale to determine the best option.

For the top sash guide, I think you could have our

18-166

. Carefully compare your dimensions to ours to confirm.

I'm having trouble finding the lock in your second picture. Can you give me the dimensions of its profile?
A home owner from Tampa says:
May 25, 2016
Tom from SWISCO responded:

May 26, 2016

That picture is perfect, thank you! Please give us a little time while we research a possible replacement for this. I don't think we have anything in our inventory now that will match, but I will try my best to find something. I'll let you know as soon as possible.
Tom from SWISCO responded:

May 31, 2016

Thank you for your continued patience. Unfortunately, we have not been able to locate an exact match for this latch. We have checked around various sources and I'm afraid nobody recognizes it. At this time we will not be able to provide a replacement. I apologize for the inconvenience.
A home owner from Tampa says:
June 11, 2016
Tom, today i installed the two
18-166
that i received and the window is a little stiff in raising and lowering, so I assume that it is the balances. Ok, I weighed the window and it is approx 21 lbs and according to your list it would mean that the
S380-30
series at 21 lbs may equate to the 2930 balance. If that is correct, please advice what number i need to order 2 for this window.
One after thought, 2 of the face guides broke off and i assume that they are
67-026
as they appear to match the dimensions you have for them so will have to replace all 4 on this window.
There are 2 rectangular holes in each side of the window jam that you have to put the little clip in on the balance, they are situated close to each other, one above the other, so which hole does the balance clip go in, the upper or the lower of the two?
Please respond at your soonest as I would like to get this window fixed and finished. Thanks
Tom from SWISCO responded:

June 14, 2016

Hello again! Glad to hear from you again. For a 21 pound sash, the 2930 option is perfect. You can select that option on the

S380-30

store page, then add the hardware to your cart.

As for the rectangular holes, it sounds like you're referring to the ones where the

16-002

take out clip installs. Are these missing on your window, or do you already have them? If you don't see these on your window, then those holes are likely meant for this clip. You can see more information on how this hardware works in the video below.