Marvin Tilt Wood Window Balances/Supports
A quick learner from Dublin Ohio says:
August 8, 2012
We have several broken parts
the markings
30 XHD
26 XHD
Do you have a compatible replacement part?
If so, what is your part number and where can I get a picture of it and pricing we nee approximately 12ea 26's and 4ea 30's
I think that the "shoe" (Photo "26 HD Mrvn Tlt Blnc Shoe") is your part number
15-014
Balance knife lock shoe.
I think that the balances (Photo "26 HD Mrvn Tlt Blnc") are your "Ribbed-Channel Balances"
Series 751
in 26 inch and 30 inch lengths.
Without disassembling the window I can't determine which "S-clip" is used. It appears from the photo (Photo "26XHD Mrvn Tlt Blnc clip-hanger") to be narrower like your
19-030
Long S-Clip.
What are the options for the balances, e.g., "TG" "HD" and " R" for the 751 Ribbed-Channel balances?
My current (broken) balances are stamped with XHD or XHD2.
I want to get the heaviest duty ones you offer.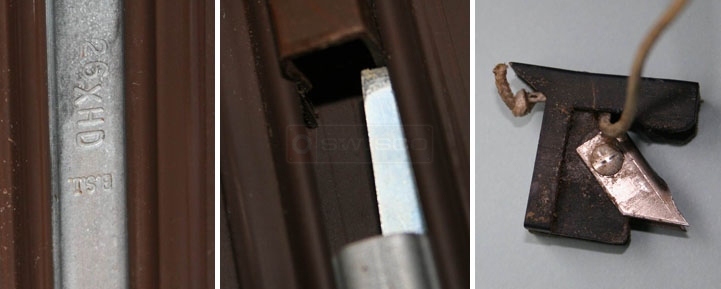 Tom from SWISCO responded:

August 10, 2012

Thanks for posting! I agree with you: the

Series 751

channel balance, with a

19-030

clip, appears to be a match. However, in order to determine what stamp option you should select, I will need to know what the weight of the sash is for both windows. You can determine the weight by removing the sash from the window and placing it on a common scale. Let me know what you come up with and we can work from there!
A quick learner from dublin ohio says:
August 14, 2012
OK - now what stamp options do you recommend as appropriate for your 751 Raised Channel balances (26" and 30" lengths) for Marvin tilt wood windows weighing 25 pounds (With the 26" balance) and 31 pounds (With the 30" balance)?

It might speed the ordering process and the repair process if you offered some explanation with regard to your "stamp option" in the information you provide on your website.
Tom from SWISCO responded:

August 14, 2012

Thank you for your patience in this matter. For the

S751-26

, I would recommend the 25TG option, which can support a window sash weight range of 24 through 30 pounds. Does that look about right? For the

S751-30

, I would recommend 29TG, which can support 28 through 35 pounds. Let me know what you think.

The other weight ranges for these balances ("HD," "R," etc.) vary. Would you like to know the weight ranges for each of these as well, for each channel balance?

Please keep in mind that the weight range information is based on 2 balances per sash. Balances are designed assuming friction in the jamb weather-strip will carry a portion of the sash weight. Suggested sash weights are approximate.
Donna from SWISCO responded:

August 14, 2012

Also, please double check the balance lengths. The 30XH and 26XH balance stamps normally translate to the 30TG and the 26TG, however, they measure 31" and 27" in length.