Need Replacement Balance
A quick learner from Michigan says:
September 1, 2015
I need to replace the balance in my Simonton Luminess windows. I've included a picture of a working one and one that is missing the cover. I hope that is good enough. I'm afraid to take apart a working window because the last one I did shattered the balance pieces and I couldn't get the window closed.
Measurements:
Channel is 1 1/4"
Opening for the channel is ~3/4"
Balance cover is 4 inches tall
I also need a replacement for the tilt lock in the last picture.
Thanks,
Tom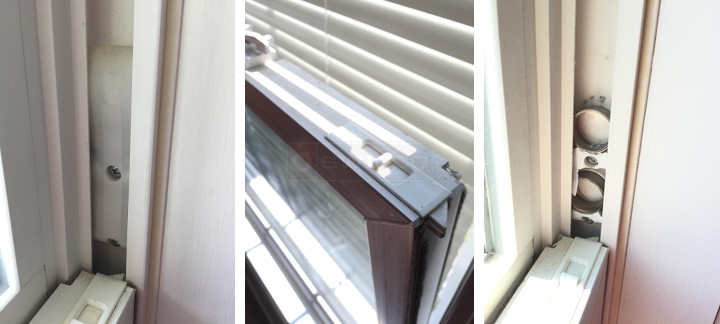 Paul from SWISCO responded:

September 3, 2015

Thanks for posting. For the tilt latches, start by looking at our

26-243

and

26-244

. I believe these are matches. I'm not as sure about the balance. I'd like to see the pivot shoe in order to confirm the rest of the hardware. However, Simonton has been known to use our

15-111

. Is that a match? If so, also check out our

15-150D

cover and

Series 160

spring.
A quick learner from Michigan says:
September 3, 2015
Thank you! Those tilt latches look correct.

15-111 does appear to the be the same pivot shoe. I might be able to save that for my broken windows.

Now that I've gained some confidence taking the assembly apart (from watching the videos), I see exactly what parts are broken and need to be replaced. I think the cover is the only part that needs to be replaced. I noticed my covers are about an inch longer and have rounded ends on the top and bottom to allow the tilt latches to "open/close" when the windows is raised/lowered. The balance coils are located just above the tilt latches when the window is closed. So each time the window opens the tilt latches move over the balance coil covers. Over time they have started chipping away at the covers because the plastic has become brittle. Should I move the coils just below the tilt latches when i reinstall it to prevent this? The only problem i see is the window won't open as far because the pivot shoe will hit the coils at a lower point than it does now.

Thanks for your very valuable guidance!
Paul from SWISCO responded:

September 3, 2015

What you have described is one of the main reasons why window manufacturers have lowered where they install coil spring housings to just below the half-way mark on the window. This prevents the tilt latches from hitting them. It will reduce a couple of inches when you raise the sash to the highest point, but that's all.