Need help determining correct Pivot Shoe
A quick learner from Michigan says:
April 18, 2014
Hello,
I am looking to replace some old hardware from my tilt windows. I have a few windows that do not stay open so I am replacing the Spiral Balances with
S600-26
(Red)-5/8". I am unable to locate the pivot shoes on the site.
A few questions:
1. Instead of using jamb spreaders, can I cut into the window to remove the pivot shoes? I was thinking of using a dremel to cut out part of the plastic at the very top. I am unable to remove them to measure so it's a bit difficult to get measurements at this time.
2. Since I am replacing the spiral balances, do I have to use the same shoes or can I use something more widely used?
3. One of the windows is much larger and heavier than the others but it has a red-tip on it as well. Should I consider upgrading the spirals to blue/black?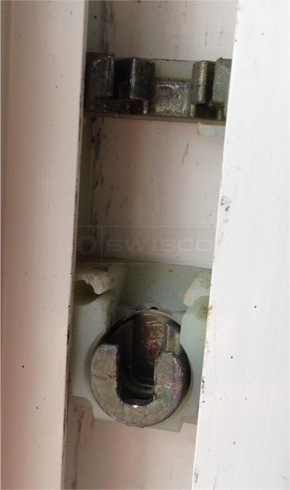 Paul from SWISCO responded:

April 22, 2014

1) Yes, you can remove the top stop for bottom sash and cut top track to remove the pivot shoe, as well as the top sash.

2) You don't have to replace pivot shoes unless they are broken. If it is necessary, then I think you should consider our

15-178

. Just double check to make sure the dimensions match.

3) It's hard to say. You shouldn't try to use a different tip color until you know the exact weight of the sash. Once you do, you can compare it to the tip color chart we show for all of our balances and choose the best one.
A quick learner from Michigan says:
April 22, 2014
Thanks for your response Paul.

One thing I noticed on my windows is that there are no top stops for the bottom sash. Is that an issue? I can take some more pictures later tonight if you'd like to see the entire window.

Thanks for the link to the pivot shoe. It does look just like the one in there. I will verify the measurements later tonight and inspect the shoes, I might get lucky and not have to replace them if they aren't damaged. Also do you recommend to lubricate the area where the pivot shoe moves?

Lastly, I'll weigh the last window and see if it is necessary for a blue/black tip.

Again, thank you for your response!
Paul from SWISCO responded:

April 24, 2014

It is hard to match up window stops, but fortunately they aren't critical unless you have teenagers who throw up the sash to the top. I have recommend taking a window stop from another window and just using one per sash, that should be all you need.