Need new ROW window cranks
A quick learner says:
June 27, 2013
I am looking for a casement window opening units for a window made by a company called ROW which discontinued making these windows back in the '80's. Attached are some pictures of the unit. Need some help.
All of the windows in this house are 24" wide and the control hinge is 12" from the bend. If you have units, please reply and inform me of the price and how to purchase. If you do not, you have my thanks if you can tell where I may find units or what I can do to replace them. I did check locally and was informed "these units were made to be replaced and not repaired".
My thanks! Dale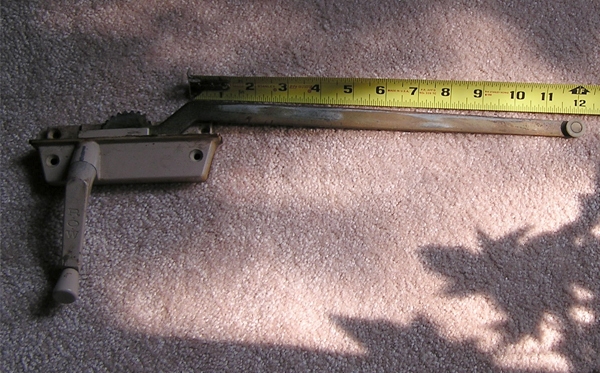 Dave Sr. from SWISCO responded:

June 28, 2013
A quick learner says:
June 28, 2013
some questions

is the roller at the end of the arm some 9/16 in in diamater and can this unit be used to open and close a wood casement window some 24'x 48' and weights some 25+ pounds. they do swing with some ease. the thickness of the hole for ther ROW unit is 3/4 inches - can this unit fit in this hole.

if so i will order a couple of the 39-0i4 units. if they do not work, i assume one can return them.
Dave Sr. from SWISCO responded:

July 2, 2013

Our roller is actually a little less than 9/16". You will very likely have to change the track, and may even have to recut new sill covers. I know it's a pain, but these operators are the closest possible matches we have. I don't believe the one you have is made anymore.