Need your help
A landlord from Havertown, PA says:
September 17, 2016
I am a landlord who is now disabled. My tenant has a problem with a window. It seems to have become detached from the spiral spring thing and cannot close. I am unable to go there and these are the best pictures I have been able to get from the tenant.
Since I cannot go there I do not know if something is broken or if the window device has just become unhooked. No markings have been found on the window. My tenant is fairly handy and would fix this if he could. At this time we do not understand enough to make the repair. If you think it's simple please let me know. If not I would like the name and number of a person in this area who would be competent to look at this and repair the problem.
Thank you for your time.
Lewin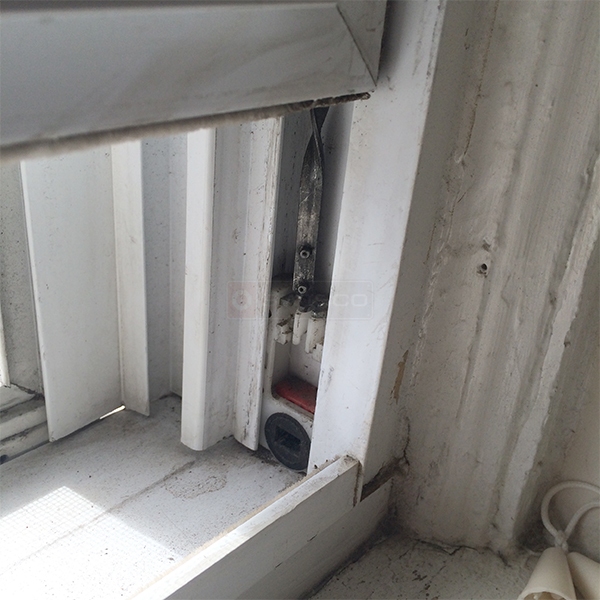 Paul from SWISCO responded:

September 20, 2016

Hello, Lewin. It looks like there are two things are wrong with your window sash. First, the balance spiral appears to be unhooked from the pivot shoe (which might match our

15-121

). Secondly, the pivot bar on the bottom of the sash (I think it's our

26-040

) is not engaged with the black center cam of the pivot shoe.

First raise the sash about four inches and tilt the sash in towards you, then twist to remove it. I'll post a video below that should help you. Once it's out, check under the sash for the pivot bar. It might have been unscrewed and slipped into the channel in which it normally rests.

Another other thing you need to do is raise the pivot shoe about six inches and use a flat head screw driver to turn the cam towards you. That will lock it in the track. You can then hook the

75-006

spiral balance charging tool to the bottom pin of the spiral and raise it close to the balance tube, then give it an additional three turns. You should feel tension building. When that's done, bring it down to the pivot shoe and hook it in.