New operator will not work
A quick learner from California says:
March 10, 2016
I just tried to install my new operators, Swisco's
39-333
and
39-334
. However, the short arm isn't working with my current layout, despite being an almost identical match to my original.
I had to cut this out of the window frame, so I'm not hundred percent sure which hole the gears were riveted into, thus The two pictures, thanks for your help.....
I do see the short arm steps down, and the short arm clip is mounted on the top instead of the bottom.
DO you have any ideas?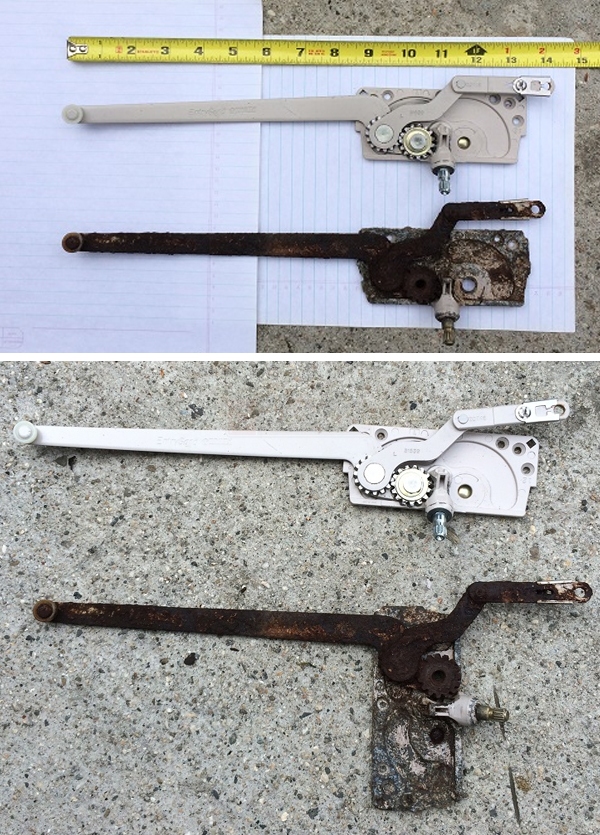 Dave Sr. from SWISCO responded:

March 14, 2016

Looking at your photos, it appears that our operators match yours. The only difference I see is the location of the detach clip on the short arm: yours is on bottom while ours is on top. Fortunately, you can just pop them off with a screwdriver and reinstall them in whatever position you need. See if that fixes your issue.
A quick learner from Santa Monica says:
March 21, 2016
Good morning, thanks for your information, on closer look at the two mechanisms the new mechanism and the old mechanism there is a slight difference. The difference is this, the short arm on The mechanism you sent me, steps up, and on the old mechanism the short arm stepped down. Notice that on the pictures I sent you the clip is upside down, or facing down, not only is the clip facing down but the short arm dropped down. Thank you and please let me know what my next step. Thanks for your help
Dave Sr. from SWISCO responded:

March 23, 2016

Hmm... your operator could have be made specifically for the window manufacture. Our operator, whose link arm is in the "up" position, is the only one we can find. If you install that detach clip at the bottom of the link arm, would it still work on your window? If not, you might be able to move the sash bracket. The only other solution we have would be remove the link arm and reattach it in the position you need using the

62-014

rivet to reattach it.