Non-tilt 1/2" block-and-tackle channel balance for GapCo window
A home owner from Bridgewater, NJ says:
July 31, 2010
I ordered some series 351 channel balances based on your recommendation that many customers find that they work for GapCo windows. They DO work, but they are not exactly correct - the window has some left-right play as it goes up and down. I was reluctant to actual take out the old balances until I had replacements, as they had pretty much "self-destructed" in place, and I wasn't sure I could get the window back in properly. However, now that I have the series 351 balances in place, I am able to make detailed comparisons and measurements. It seems that I need a balance with a 19-005 top (with the side flanges/wings) and a 15-004 shoe (side flanges/wings again, and a more pronounced wedge on the window frame side - 1 1/16" depth). This is not a standard top/shoe combination for any of your series. I'm not sure if both the top and shoe need to be exact replacements. I'm thinking that the 15-004 shoe may be more important than the 19-005 top because of its greater depth - and hence it might hold the window more tightly, preventing the left-right movement - implying that I should get the series 350. What is your recommendation for me given this information? Is it possible to get custom top/shoe combinations? Thanks!
Donna from SWISCO responded:

August 9, 2010

I would be happy to make a suggestion, please email detailed photos of the original balance and show a close up of the balance shoe and balance top.

We can make a custom combination for you if needed.
A home owner from Bridgewater, NJ says:
August 10, 2010
As requested, photos of the top and shoe of my current GapCo block & tackle channel balance - along with my original inquiry. Balances are 1/2" wide and 28" long per your measuring instructions.
Stamp: 2730Q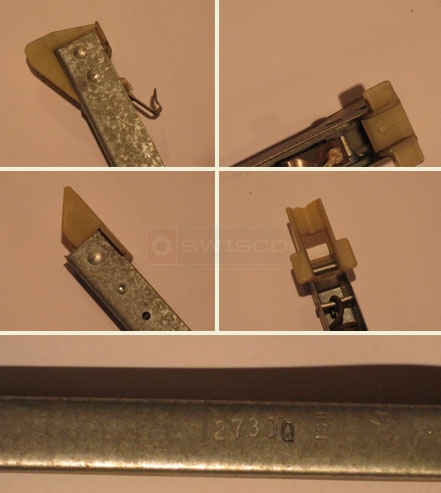 Donna from SWISCO responded:

August 10, 2010

You have a couple options, choose our

series 385 replacement balance

that has the fittings

19-005

top and

15-004

shoe attached or, since you already ordered

Series 351

, you could purchase fittings and rivets to swap out the fittings yourself. Take a look at the following guide to see if this is something you would be interested in:
A quick learner says:
August 17, 2010
Fabulous! The custom balances with the 19-005 top and 15-004 shoe are perfect! Thanks!
A home owner says:
November 7, 2010
Will series 350 or 380 work a little better since they have either 19-005 or 15-004 already?
Mike from SWISCO responded:

November 9, 2010

If you're certain you have the 19-005 and 15-004 fittings, with the stamp 2730 choose S385-28. The series 350 or 380 will not work.
A quick learner from Bridgewater, NJ says:
November 9, 2010
Wow, I think that question supposedly just posted on 11/07 was from me way back in August. I was really investigating other series, printing out images and comparing to my old balances. I never got a response to that question - I guess it got "stuck" in the system somehow and just popped out now. I did end up series 385 balances that worked perfectly as my 08/17 posting indicated.