Replacement parts
A home owner from Monrovia says:
September 7, 2017
I am looking for the spiral balances for an Alcoa Model 3093 and Model 4092. I also need a replacement screen for the model 3093. We have noted condensation in between the glass panes and we are selling the home and the inspector requested we replace the bottom window of the 4092. Can you tell me what parts I will need and along with pricing and lead time?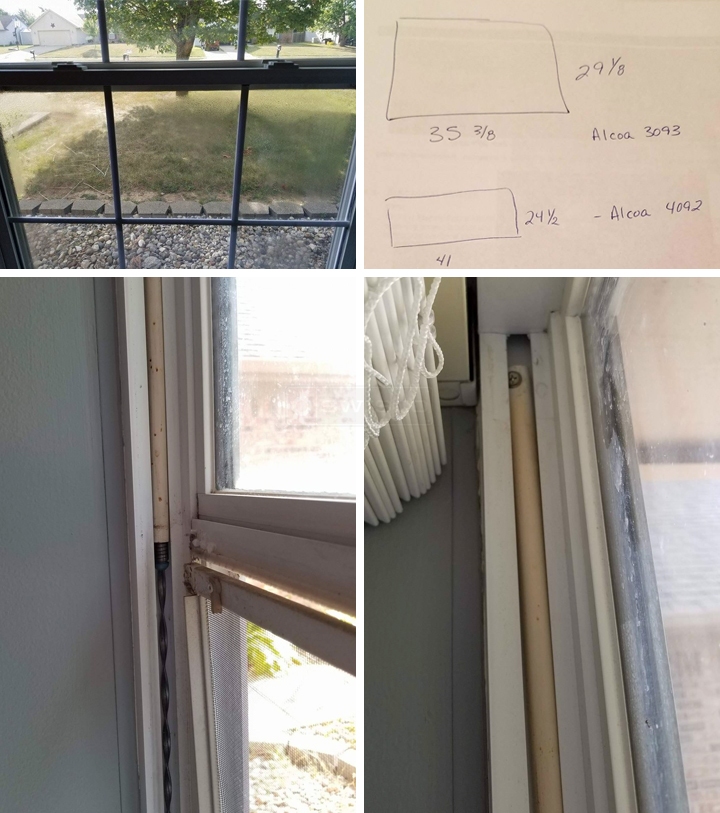 A home owner from Monrovia says:
September 8, 2017
Checking to see if there has been any progress made with this. I am needing to get the windows repaired asap so that the new homeowner can take possession on the 22nd of this month.
Ben from SWISCO responded:

September 13, 2017

I can quickly confirm that we do not sell window sashes or repair glass, so you will need to contact a local glass company.

As for the screen, check out our

FlexScreen

, which is the only option we can offer.

If you measure the exact size of the slot where the window goes (using the online walkthrough on the page I linked), you can place an order for a flexible-frame screen that fits your exact screen track. The FlexScreen bends to pop into place and uses tension to hold itself in without clips. This may or may not be the right option for you. Take a look at the site.

Finally, spiral balances can be identified using

our three-step spiral balance guide

:

First, choose whether your window tilts or does not tilt, then choose the diameter of the outer plastic tube, and finally, pick the Series that looks like yours, based on the options that our guide offers for that particular diameter.

You'll want to measure the length of the tube, since that will correspond to the length of the balance. Then, choose a blue tip to match your old one. If you're unsure about the tip color, weigh your window sash and compare the weight to the chart on the webpage for the balance you end up selecting.

This is a lot of information. Read it over and let me know if you have questions.