Replacing Pella wood casement cranks
A home owner from Golden, CO says:
April 13, 2013
Hello,
I have at least six Pella wood casement windows where the crank-handle has separated from the main body (see attached photo). I have identified part #'s:
40754 (main gear body and 9" arm assy)
40754 is also attached to (3) linked pieces:
31538 (3" short arm in S curve), attached to
2081 (4" straight arm) attached to
20545, (3" long window bracket).
Note that the crank separated as shown by the piece of gauze sticking out on the right-hand side of the picture. Appears to be of VERY poor design!
The house was built in 1994. It appears that this is intended to be replaced as one assembly. What is the part(s) number and the cost for six of these?
Thanks in advance.
Al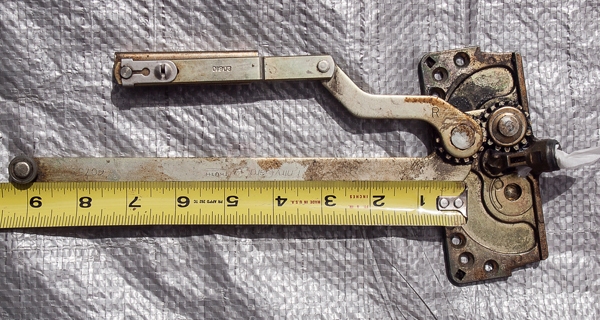 Tom from SWISCO responded:

April 15, 2013

Good afternoon, Al. First, thank you for the detailed information! I just have a few questions.

Are you sure that this is a Pella window? I can see "Truth Entrygard" stamped on the arm. Please confirm!

Can you also confirm the length of the short link arm? Could it be something more like 3-13/16"? If so, you might want to check out our

39-155

.
A home owner from Golden, CO says:
April 15, 2013
Thanks for the rapid response Tom!
All the windows when delivered were marked Pella. The ass'y conforms to picture
39-156
(opposite side), except that the short link arm (with "clip") measures "4-3/16" (one inch longer). It is marked part# 20810. I would rather not shorten this replacement arm if I can avoid it, esp. on many windows.
Also, I note in your picture of
39-156
an inset picture of this part is marked "Truth" Hardware Operator", confirming the assy source.
Is there an assy using the "4-3/16" short arm?
Al in Golden
Tom from SWISCO responded:

April 16, 2013
A handy person from Golden, CO says:
April 16, 2013
Thanks for your patience Tom,

Part of my problem (before seeing your measurement points) was in using the PIVOT points. Hence the long hing was measured as 9" and short as 4-3/8.

The measurements are close now. The long arm measures 10-7/8; close enough I think. I'll order those. Last question: is brown color available and return policy (however, chances of return approach ZERO).

I'm very impressed with your support. You're very patient and quick to respond with clear questions, accurate information, and good prices.

Best Wishes, Al
Tom from SWISCO responded:

April 16, 2013

Hey, Al. Thank you! I'm glad you're satisfied with our service. That's always nice to hear.

I'm afraid that these operators don't come in Brown, but we have a cover that goes with them that comes in Bronze. Check our our

39-107

to see what I mean. Also be sure to check out our

Return/Exchange Policy

.
A home owner from Kansas says:
October 5, 2013
I am glad I came across this discussion as I think we have the exact same problem - handle separated from body on 3 windows of a house built in '95. It seems we should be able to get the handle back in but it won't catch the gear in order to operate the window.

What ended up working for you - did you replace the whole assembly?

Thank you!
Tom from SWISCO responded:

October 7, 2013

I'm not sure if it worked for the customer above, but it sounds like your gears are stripped. When the handle came out, did it bring the worm gear with it? If so, then you will need to replace the whole operator.