Replacing window balances
A home owner from Jersey City says:
August 3, 2013
I have a very heavy safety glass window (I have no scale so cannot give exact weight, but it is much heavier than windows I am used to).
The balance will not hold the window up, but I think it was capable in the past - just has worn out.
Based on the information I provided, can you tell me the parts you recommend for replacement? I've attached 5 photos.
Thanks.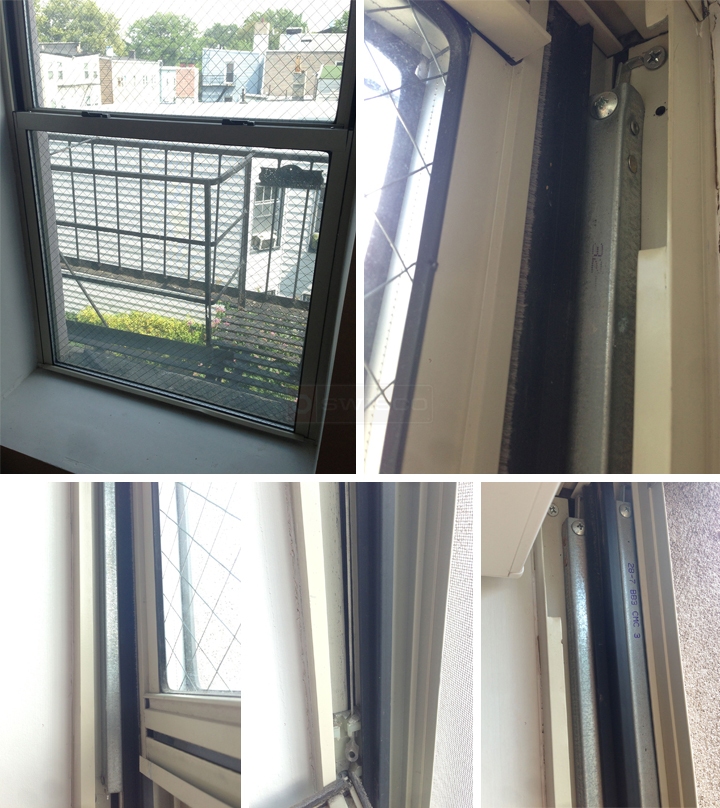 Tom from SWISCO responded:

August 12, 2013

Thank you for your patience in this matter. I have just a couple questions for you. First, it appears that your pictures here feature two different balances. One is marked 28-7 and the other appears to be 32-3, though that one is faint. Are these two balances in the same window? Usually, window balances in the same window are identical. Can you confirm? Can you also tell me the exact length of the metal channel for the balance you wish to replace?

Finally, I know you don't have a scale, but if there is any way you can borrow one? Knowing the exact sash weight would be a huge help in our search and will allow us to get an answer for you faster.
A home owner from Jersey City says:
August 12, 2013
Hi Tom,

The faint one is on the window I need the replacement for. I'll get a scale and get back to you.
A home owner from JC says:
August 16, 2013
The window sash is 40lbs. The balance with the faint number in the picture is the one on the window I need replacement for.

I was thinking about also replacing the other that is more readable, but it isn't really necessary.
Paul from SWISCO responded:

August 20, 2013

Great, thank you for the additional information. Now, it looks like this balance is similar to our

Series 770

channel balance. Check it out and let me know if you agree. If so, we can make what you need, but they will have to be custom built to accommodate that weight.

Before I sent you the custom balance form, though, I just want to let you know that there are a few options. If you are replacing the 32" balance, I recommend either our 32G option, or 32H option. Two balances with 32G can support a sash weight range of 37 through 40 pounds, while 32H can support 40 through 43 pounds. Take a look and see which is better.

If you want to replace the 28" balance, though, then I would go with either our 28G option (36 through 40 pounds) or our 28H option (40 through 43).

Either way, check out this

Custom Channel Balance Request Form

and fill out the rest of the information. I've left the "Channel Length" and "Channel Stamp" categories empty so that you can fill them in depending on where you want to go based on the information above.

Once you've submitted the form, one of our representatives will get back to you with a price quote.
A home owner from JC says:
August 20, 2013
I think we should go with the 32H to be safe, but the bottom of the existing balance looks different. I guess I would need a pivot shoe? Can you let me know which would work with the 32H? The existing one is 9/16".

I don't see G or H as options when I go to the page you linked for the 770, so I can't take a look like you suggested.

I'm not going to replace the 28" window at this point.
Tom from SWISCO responded:

August 20, 2013

The G and H options are not standard, so you will have to fill them in on the custom request form that I sent you. As for the shoe, since yours is 9/16", I would consider our

15-129

, which ha the same thickness.