Replacing window pile on metal frames
A handy person from San Francisco, CA says:
December 29, 2014
I have 35-yr-old single pane windows with metal (aluminum?) frames. I'd like to replace the pile which is missing entirely, disintegrating, filthy or just not sealing well.
The existing pile measures with a 1/4" wide tab and 1/8" deep pile. (see the first three photos).
Some of the windows are slightly bowing inward (from years of wind pressure perhaps) resulting in a gap of about a 1/4" (maybe more .. it's hard to measure but you can see in the fifth photo my fabric measuring tape fits easily in the gap even with the existing pile) -- this means when the window is closed the pile is not making contact on this portion of the window. If I press on the window frame I can close up the gap. I'm wondering if I should use deeper pile on this portion of the window or if there is a better solution (or just something to live with!).
What should I be using to replace this?
One more question (fourth photo): There is a metal thing in the base of the window I removed to get the pile sample. I took a photo of it (the fourth picture). Is this part of the frame? something that fell out of the sash? something else? Just curious!
Thanks!
Eric in SF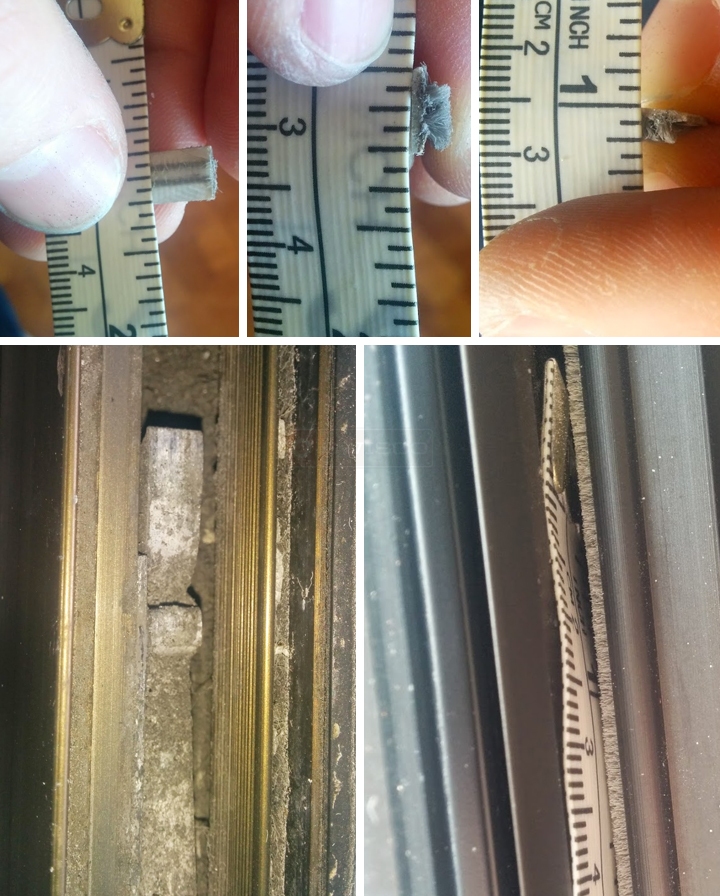 Paul from SWISCO responded:

December 31, 2014

Our

58-045

wool pile matches what you have now, and our

58-099

is 1/16" heavier. I don't think you want to go heavier than that, however, or you might have a problem in operating your windows.

I actually don't know what that metal piece is in the fourth photo. Is there any way I can see it out of the window from a few more angles?
A handy person from San Francisco, CA says:
January 1, 2015
Thanks Paul!
Is it common for people to use slightly thicker pile for worn windows? Do you think the
58-099
would work for all parts of the windows or should I only use it only on the "looser" edge and the
58-045
everywhere else?
I've attached another file including several more photos of the metal piece. I see this on at least two windows and it seems to be attached to the inside of the frame, just under where the window slides (these are windows which slide left to open). Perhaps it's related to some kind of lock that prevents the window from opening too far?
Thanks!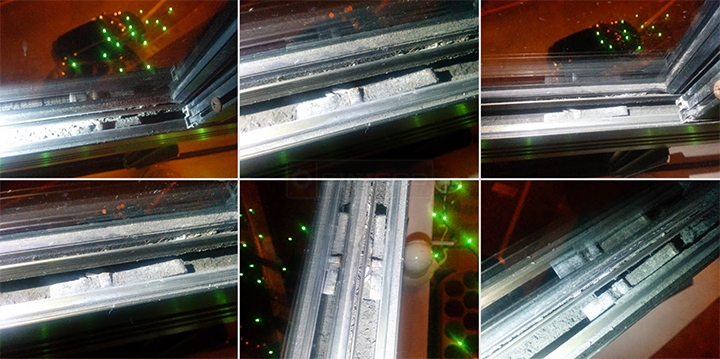 Paul from SWISCO responded:

January 2, 2015

That is strange. It could possibly be a type of take out clip, like our

16-002

. These are used in the process of removing channel balances from non-tilt windows. Is that the type of balance you have?

Your suggestion for a wool pile setup sounds good! You may even be okay with just our

58-045

. This has a fin seal which could be more than enough on the "looser" edge of the window.
A professional from California says:
January 5, 2015
The part in the bottom frame is a pivot lock that keeps the window from opening more than a few inches. Sometimes these are useless if you can lift the window above it. Not a lot of security here. More of a child lock to prevent accidents.