Sash Channel Replacement ID
A handy person from Dove Canyon CA says:
August 5, 2011
I have a 28" wide window with channel stamp 33 2 jo caldwell. Can you cross reference this to standard designs you carry or recommend other options for ordering
Mike from SWISCO responded:

August 5, 2011

Good Afternoon,

To get started, take a few photos of your channel balance attachments and upload them so we can take a look. Also, please be sure to include the length of the channel portion of your balance only.
A handy person from Dove Canyon CA says:
August 6, 2011
I've now researched your catalog site/discussions and determined I may have a customer order.
I have 4 balance sizes, all were labeled as follows:
- 27 4; which I think translates to a 2740 strength?
- 33 2; translates to a 3320 strength?
- 33 3; translates to a 3330 strength?
- 33 4; translates to a 3340 strength?
all the numbers are followed by 2 initials and the word "Caldwell".
My balance top measures to the model
19-005
and the shoe to the
15-004
, see photos.
If I'm correct I'll request a custom quote as you may recommend.
I also think an option might be to replace the balance top on the Series 350 channels with the balance top model
19-005
. Although this would require a bit more work prior to installation it may be the more economical, even with the extra tops/rivets/tool that would need to be ordered.
A final note and recommendation for additional inspection points on the sash for home owners. My need to replace the balances started when a window was being closed and fell unsupported, breaking the top sash guide, product code 18171. I've now inspected several windows and found most of the guides deteriorating due to age (14-15 years old) and weakened with minor cracking. Although none have broken through I plan to replace all of them when I replace the channels as preventative maintenance.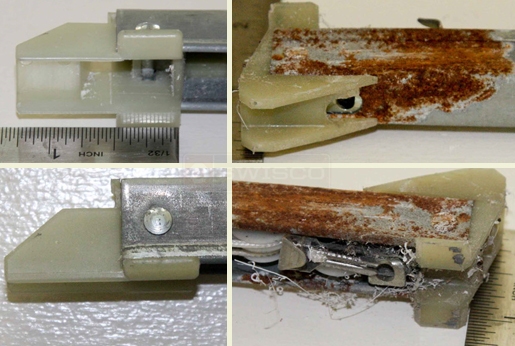 Mike from SWISCO responded:

August 9, 2011

We just added a new balance series that matches what you have, see S385. The shoes you identified (

15-004

and

19-005

) appear to be the right shoes for your balance replacements.
A handy person from Dove Canyon CA says:
August 27, 2011
Thanks for your help, I received my order and have replaced the balances on 2 windows that were broken and needing the most immediate attention. Your Installing and Removing Channel Balances article in the "Guides" section was very helpful, as was the video.

As I mentioned in my first post, I found the top sash guide broken on one window and deteriorated due to heat and age. I simply decided that replacing all the guides with new as I replaced the channel balances on the remaining windows in my home would be a good idea. This was confirmed when I found the guides on the second window craked and brittle. Adding replacement of the top sash guides as a recommendation to homeowners replacing balance channels would be a good idea, especially located in hot/sunny climates.
Mike from SWISCO responded:

August 29, 2011

Thank you for following up with us.

I am glad to hear the replacement parts worked well with your application.