Sash support identification
A professional from USA says:
November 13, 2013
I have a customer who has season all windows and have a few questions for you.

1. the piston is junk and needs replaced, it is gummed up and pulls apart when trying to move the piston up and down. so i think i need one of those, the piston measures 34" long when opened up.
2. i need a screen for the window that is 34 1/8 inches tall by 21 1/4 inches wide.
3.The pin on another window at the bottom that rotates that pivotes on the slide guide is missing, i need that pin and the screws to mount it.

any information would be greatly appreciated.
Thank you,
Cory
Tom from SWISCO responded:

November 13, 2013

Thank you for posting, Cory. Unfortunately, we do not make screens. You will have to contact a local hardware store for further assistance in replacing yours. We may be able to help with the rest, though. I'm just not sure what you have. Could I see a few pictures of the hardware in question? That will be the best place to start.
A contractor from Anna, Ohio says:
November 13, 2013
Thankyou for responding back today. I thought that would be the case for the screen, but I figured I would ask. Hopefully these pictures help. I don't have any more picures of it. I can take more pictures of the homeowners window if I would need to. Thankyou.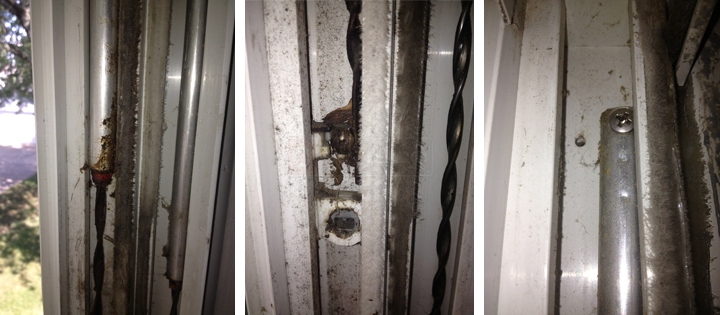 Tom from SWISCO responded:

November 15, 2013

Great, that's a huge help. Looks like you need a pivot lock shoe and a window sash balance. For the balance, I would start by looking at our

Series 600

spiral balance. This appears similar, but carefully compare our specs to yours and see how they match up. Make sure to take special note of the tube's diameter.

I'm not as sure about the pivot shoe, though. It's hard to tell without knowing its thickness and width. That said, look at our

15-046

, which appears similar, and see how well it compares to your own. It may be easier to measure if you were to remove it from the window. Check out the video to see how to replace both the pivot shoe and spiral balance.
A contractor from Anna, Ohio says:
November 15, 2013
thank you very much, I will go take dimensions of the parts needed and order them. What about the pin that goes into the pivot shoe? The part that mounts on the bottom of the window sash itself, he lost it and needs another one. By ordering the pivot shoe does it come with one?
Tom from SWISCO responded:

November 15, 2013

Sounds like you're talking about the

pivot bar

. You would need to purchase one separately. You can browse through that section to see what you can find, or you can take a few pictures and I'll see what I can find. There could be multiple possibilities, so I cannot say what you need based on just the pivot shoe.
A contractor from Anna, Ohio says:
November 15, 2013
ok that sounds great I will go take pictures of the pivot bar that is on the other side of the window and match them up. Thank you very much for all the help! It may be a couple days before I can respond back. Thankyou again!
A contractor from Anna, Ohio says:
November 19, 2013
Thank you tom for all your help. I have ordered 2 600-03 balances, 2
15-046
Pivot shoes, 1
26-068
pivot bars, 1 75006 charging handle.
I do believe the spreader bars are quite expensive for a one time use, i plan on using the cutouts at the bottom of the sash guide, or make my own.
Thankyou very much, I hope I have the correct pivot shoes!