Season-all Thermalgard triple pane windows
A home owner from Schroon Lake, NY says:
September 25, 2013
We just move into this house built in 1966-67. All the windows are Thermalgard by Season-all. I have the customer number of the orignal owners who had the windows installed, production order number and item # from the interior of the window. Currently 3 of the window sash pulls (not sure what to call them) are broken. Being triple pane windows they are very, very heavy!! So when lifting the windows they get a lot of torque on them. The prior owners have sticks in the window sills that they must have used to prop the windows in the good weather.
Is it possible you might have pulls?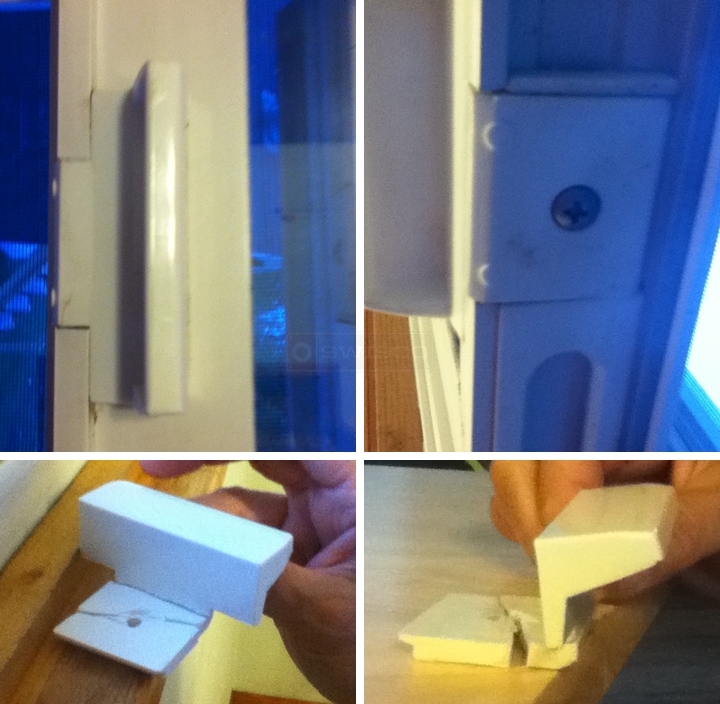 Paul from SWISCO responded:

September 26, 2013

Thanks for posting. The handle you need looks very similar to our

26-147

. Check it out and see if you agree.

That said, you may still have the same problem with the handles breaking unless you replace your window balances. The window sashes shouldn't be so hard to operate that the lifts break. Look at our video on our

Series 600

tilt spiral balance and see if you agree.
A home owner from Schroon Lake says:
September 26, 2013
Paul,
Thanks so much, I will measure the broken pieces and ones that are OK to see if they meet the
26-147
in size.
I think you may be right about the window balances. I'm just not sure I have the physical strength to actually hold, and lift the triple pane windows. I will inspect them more over the weekend to see if they look like they can tilt out and how that might all work.
A home owner from Schroon Lake, NY says:
October 1, 2013
Paul,
Over the weekend I examined the pulls and they look like they will fit.
I am adding a couple of other pictures. How do I determine the size spiral balance that I will need?
Will the new balances make it easier to lift the windows and keep the top sash from slipping so much? Will it also help keep the windows open on a nice day so I don't have to wedge anything?
Is there a way to find out how old the windows are?
I have found a friend that can help with the lifting.
I would like to order everything together, so I am assuming that I should replace the pivots too? Which ones should I buy?
Finally, from the video I will need a tool to help with the installation. What do I need?
Thanks for all you help.
Jelane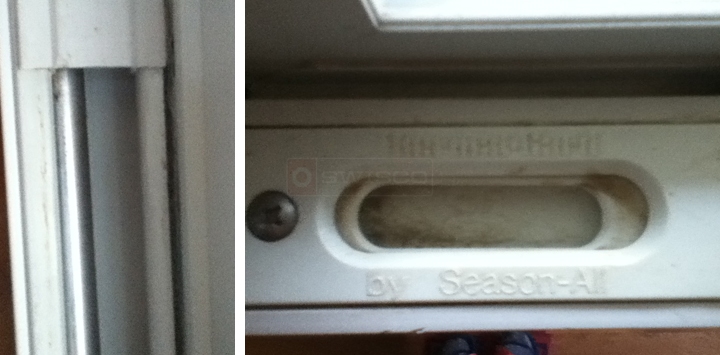 Tom from SWISCO responded:

October 1, 2013

To determine the size of the spiral balance you need, you will have to measure the length of the tube itself. The balances should make it easier for your window to open and close, as well as allowing it to stay open, as long as it is properly charged. IN fact, if I were you, I would try to charge my balances before I purchase new ones. It's possible that that is all you need to do. You can refer to the video Paul posted for instructions on the proper way to charge this kind of balance.

I do not know how to determine the age of your windows. I would check the labels on the window for any dates. Failing that, try to contact the original builders.

I'm also not sure what pivot bars you have. I could determine what you need if you were to remove them from the sash and take a few pictures.

The charging tool we use for tilt-window spiral balances is our

75-006

.
A quick learner from Schroon Lake says:
October 24, 2013
HI, I ordered the suggested tool and got the new replacement handles.

My items have recently arrived. There are no directions with the charging tool.

I've watched the video for replacing the balances. Do you have just a video on charging? How do you know when you have charged enough? I'm hoping to try it this weekend.

Thank you.
Tom from SWISCO responded:

October 25, 2013

We don't have a video specifically for charging, but our video does detail the best method. We also have a written guide. Check it out below.