Series 795 Channel Balances
A home owner from Aldie Virginia (but lived in Mt Laurel NJ for 7 Years) says:
August 30, 2014
Hello -
Please see attached pictures. These are from Patriot Windows installed in a new construction home (2008). I want to confirm that these are
Series 795
Channel Balances. Also would like to confirm that the replacement part you provide has the pivot shoe/brake connected.
Also curious: does the replacement part have the same design and material selection/assembly as the original? I ask because we have experienced 16 out of 16 failures large window failures (36C balances) where 3-4 occurred while the window was being raised. The rest of the failures "just happened". So far so good on the smaller windows (30B): only 2 failures out of 8.
The channel width is 9/16".
I will need 16 36C and 2 30B if I did properly identify the part.
Thanks.
-Michael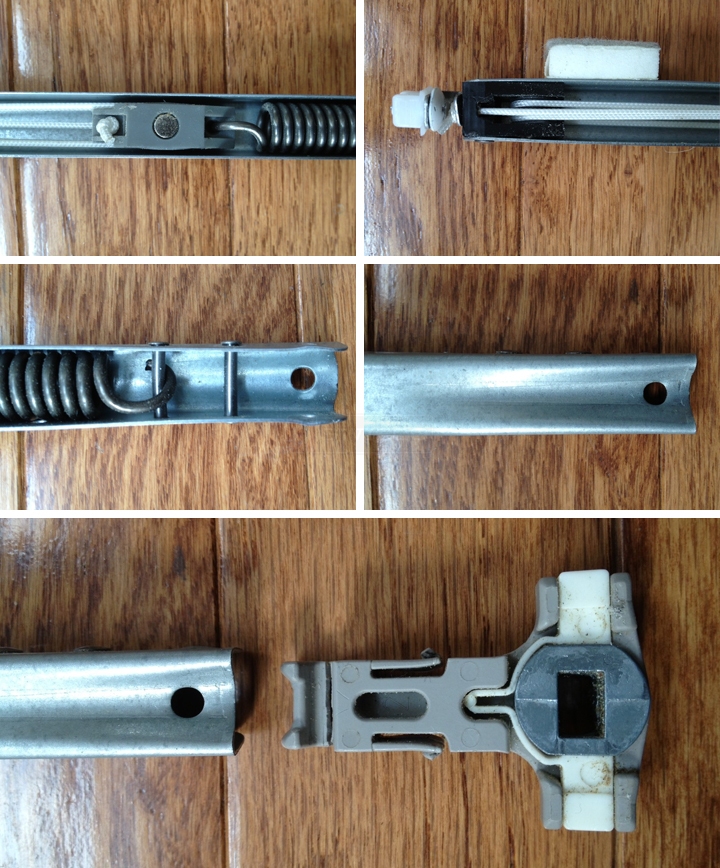 Paul from SWISCO responded:

September 3, 2014

I agree, our

Series 795

looks like a good match. It looks like you also need our

26-200

screw plug to install.

I'm not sure why the replacements you used failed. How exactly did they fail?
A home owner from Aldie VA says:
September 3, 2014
Oops. I can see that how I explained the question I gave you the wrong impression. All failures we experienced involved the original window balances. And all failure modes were the same: the balance separates at the point where the metal shaft connects to the pivot/brake at the base of the sash. The balance then fully contracts and hangs at the screw plug connect point. In about half the cases this happened when not operating the window.

The pictures I sent are of one of two failures where the channel first separated from the pivot/brake and then contracted with such force that it then also separated at the upper attach point. Those two balances we found laying on the floor after hearing a "bang".

So considering the large number of original equipment failures we experienced, I was wondering if the replacements you provide are constructed using the same materials as the original.
Paul from SWISCO responded:

September 4, 2014

Ah, I see. I'm not sure what materials your old balances were made from, exactly, but I imagine that they're pretty similar. This kind of hardware isn't really made with different levels of durability in mind; it's all about spring strength. How old were the balances when they failed? If they were very old, I can see how this might happen in a few cases.

Can you also confirm that they had the correct spring strengths? This is determined by the stamp. Two balances with a 36C stamp can carry a window sash weight of 22 through 27 pounds, while two balances with a 30B stamp can carry a window sash weight of 13 through 19 pounds. How heavy were your two sashes? Do they correspond with these stamps?
A home owner from Aldie VA says:
September 4, 2014
We are the original homeowners. The first known 3-4 failures occurred after 5 1/2 years. The remaining failures occurred in the following 6 months.

I say known failures because I have since learned that there have been failures and the channel is being held under tension only by the tilt release latch. So when someone opens the window, the channel pops that latch off and fully retracts. Scared the mess out my wife one day. Me too!

I weighed 2 downstairs sashes and they are ~24 lbs each. So the 36C seems to be properly sized.

I will be placing an order for all 8 of our downstairs windows - 16 36C balances. Will also order some screw plugs (only two popped out) and some tilt latches because some of them were cracked when popped off by the channel.

You have been extremely helpful. Appreciate the follow-up and advice.
Paul from SWISCO responded:

September 4, 2014

Sure, it's my pleasure. To be honest, a balance with a lifespan of 6 years isn't totally out of the ordinary. You can expect somewhere around 5 to 10 years, depending on how often the windows are opened. It sounds like your old balances just reached their limit.