Series 795 channel balance, 39" long
A home owner from Gilbert s.c. says:
July 17, 2012
Hello I have some windows that the balances fell down. the ropes broke. when they fell down they broke some of the parts so I need all the parts for the plain channel balance. I need 4 of them for 2 windows.
l looked at your pictures and my balances looks like your series 795. inside the balance I found this: DBE04 39D. the balances are 39 inches long I need the string for them also maybe it comes with it I don't know.
I feel this is the right balance because mine had a gray plastic part like your picture at the bottom. If these numbers are right could you tell me how much to buy and ship and how long will it take to come. and also do you have a video instruction on putting it in anywhere on line.
THANK YOU Helene I hope that the imfo I gave you is correct and will help us determine that we are getting the right parts. The number on the inside of the channel behind the coil dbeo4 39d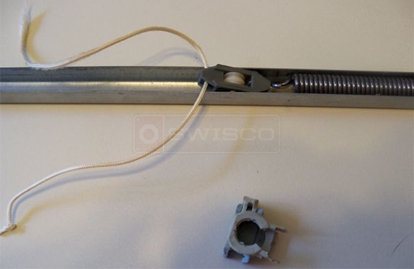 Tom from SWISCO responded:

July 24, 2012

Good morning, and thank you for posting! It does, indeed, appear that you have the same shoe as our

Series 795

channel balance. However, at 39" you have a very long channel balance! That is not one of our standard length options. Your balance will need to be custom made, in that case.

Before we begin, however, I just want to confirm something about your shoe. Could you give me its width, from ear-to-ear? It should be either 1-1/14", or 15/16" wide. Let me know!
A quick learner from Gilbert s.c. says:
July 24, 2012
Dear Tom thank you for answering so quickly I measured the part and with my ruler it measures 1/2 of an inch and one more line on my ruler and 39 inches long. So basically it's one line past 1/2 inch on my ruler so I hope this helps. Helene
Tom from SWISCO responded:

July 25, 2012

Thanks for the information, Helene! However, I also need the width of the plastic "T-shaped" shoe, ear-to-ear. Can you give me that, as well?
A quick learner from Gilbert s.c. says:
July 26, 2012
Here are pics with the tape measure I hope it helps I also have that metal piece also I wasn't sure because the plastic is broke by the way do you replace the whole channel or just the broken plastic pieces hope you get this thanks again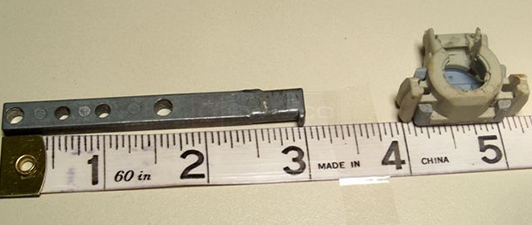 Tom from SWISCO responded:

July 26, 2012

Thank you. Based on that picture, it appears that you have the larger, standard T-lock shoe, the

15-195

. Does that seem about right? For the pivot bar, you should look at our

26-241

and compare its dimensions to your own and see if they match.

We can replace the entire balance for you. Now, as I said before, it will have to be custom made. To begin, please take a look at this

Custom Channel Balance Order Form

that I have started for you, and fill out the rest of the information. One of our representatives will be in contact with you shortly thereafter.
A quick learner from Gilbert s.c. says:
August 8, 2012
Dear Tom I'm sorry I got busy at work so I couldn't get back to you but I just want to make sure I order all the parts to replace this balance if you think I need another part tell me please my nephew will be coming from pa and he will fix this but he'll only be here for a week and I don't want to be missing any parts so please tell me every part to do the job also do you have a video on replacing this type of balance thank you Helene
Tom from SWISCO responded:

August 8, 2012

Thanks for getting back to us, Helene. The two parts you requested were the channel balance and pivot bar, correct? If so, I think I have everything covered in the post above. I recommended the

26-241

pivot bar for you; just make sure that its dimensions match your existing bar.

For the balance, you'll have to make a custom order. To do so, just fill out the Contact and Shipping information in the link I supplied to you in the very same post.

Now, while we don't have a video about this exact balance, we do have a video that shows how to install a similar Series. It's not the same balance, but it's the same principle. As you can see, it's a very easy procedure.

Let me know if you have any other questions.