Window Sash Guide Replacement
A quick learner from S. California says:
August 2, 2011
Hello, I'm looking to replace my in-law's channel balances for their windows. For the last 10 or so years, they have used a stick to prop up most of their windows!
Just needed some advice on which take out clip, top sash guide, and channel balance to purchase:
1. Take out clip - ALL the windows did not have a take out clip attached, it was probably broken and thrown away in the last 10-12 years or so. Looking at the picture below, will the
16-002
clip work?
2. Top sash guide - many of the top sash guides are broken. The last picture of the top sash guide looks identical to part
18-008
, so I assume this is the correct part.
3. Channel balance - The original channel balance is stamped 2740W and it is 28" in length. After some research it looks like the
S390-28
with the
19-002
and
15-001
is the correct fit?
3a. Each window weighed on a scale is 20 pounds. Is the 2740 correct? Just want to make sure.
3b. How do I know the S390 is 100% the correct. I need to purchase 12 channel balances.
Thanks in advance!
Daniel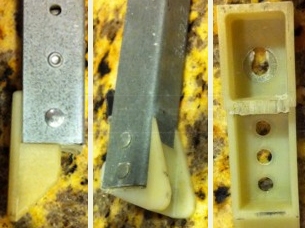 Mike from SWISCO responded:

August 3, 2011

Good morning, Daniel.

Yes, most of the Series 390 windows used the 16-002 Take Out Clip.
It appears the 18-008 Guide does appear to be close to your original, but make sure you check the dimensions of your original and compare it to that of the 18-008 to confirm.
Yep, I think you got it right. Be sure to double-check the height and width of our bottom attachment and compare it to the 15-001 to confirm the Series 390.

3a) Yes, if yours is stamped 2740, I do believe it will work for a 20 lb. window.

3b) As stated earlier, be sure to check the measurements of your balance attachments, as they are what determine the balance Series.
A quick learner says:
August 3, 2011
Thanks Mike, all the measurements seem to check out and have ordered the parts already.

Thanks again.