Window balances
A quick learner from Boulder CO says:
June 8, 2012
I have two windows that have broken window balances. From watching your videos it looks like they are non-tilt channel balances.
The windows are different heights, but on the one I have taken apart already, the balance has a "26" imprinted on it. (I'm guessing this is length). It is 1/2" wide. And on the bottom it has some letters printed "3BSI". On one side it has "OH". And on the inside by the spring there is a "12"printed.
From looking at your website I found a channel balance that looks similar, the metal part looks right, the top plastic attachment looks right, but the plastic foot attachment looks just slightly different. The part I think I need is the 385 channel, with the
19-005
top and the
15-004
shoe. I can take a picture of it when I get home later tonight if that helps.
Please advise.
Thanks.
-Lia
Paul from SWISCO responded:

June 8, 2012

Thanks for posting. Before I can offer an applicable replacement for this

channel balance

, I just need to know a bit more information.

First, please take a look at our

15-004

and

15-005

channel balance shoes, and note their depths. As you can see, they are 1-3/32" deep and 1" deep, respectively. Which one more closely matches your own bottom attachment? Once we know that, we can determine what Series channel balance you have.

Next, can you physically measure the metal channel itself? Do not incorporate the plastic attachments in your measurements, just the channel.

Finally, can you give me the full stamp? It should be more than two numbers. Please keep in mind that the stamp is not associated with the channel length. Your channel may very well not be 26".
A quick learner from Boulder CO says:
June 8, 2012
Thanks, Paul. I will have to wait until I get home to answer your questions because I don't have the balance in front of me right now. I will respond again tonight and then we can figure out which balances to order.
Thanks!
-Lia
A quick learner from Boulder, CO says:
June 8, 2012
Hello again Paul. I got home and re-measured the channels. They are 26 and 3/4" And I rechecked what is imprinted on the channels. On one end it reads "26 3" and below that it says "B.S.I." and below that in smaller letters it says "OH". I do not think these are original Swisco parts, I was just hoping that I could replace the broken parts with Swisco parts.

And the bottom foot is 1" deep.

Let me know if you would like me to send pictures.

Thanks
-Lia

Paul from SWISCO responded:

June 11, 2012

Thanks for getting back to us, Lia! With a 1" deep shoe, it sounds like you have our

15-005

. That would make it a

Series 380

channel balance. Does that look about right? Let me know what you think.

However, can you confirm the channel length? Our channels usually end on the inch. Based on your stamp number, I would think that you'd have a 27" balance. Can you confirm the length?
A quick learner from Boulder CO says:
June 11, 2012
Hi Paul. I did double check the balances, and measuring just the metal part (not including any plastic footings) they are 26 and 5/8. They are not an even inch. I also have another set I need to replace and I measured those and they are 32 and 5/8. I also did some research online about the "BSI" stamped on them and it sounds like these may be a specially weighted balance?

Also one important issue is that I need to have these windows completely fixed by the 20th of June. Is that cutting it too close?
Paul from SWISCO responded:

June 11, 2012

Can we see pictures of either end of your balance? Preferably with the shoes attached. It's possible that your balances were cut down, and I'd like to see their ends in case there is any tell-tale markings that would indicate as such.

As for ordering by the 20th--I'd have to confirm what you have before I can say anything about that with any certainty!
A quick learner from Boulder says:
June 11, 2012
Here are pictures of each end (a couple of angles of each), as well as what is printed on each balance.
And I also should mention that I broke the takeout clips on one window when I was taking out the balances so I need to order 2 of those as well.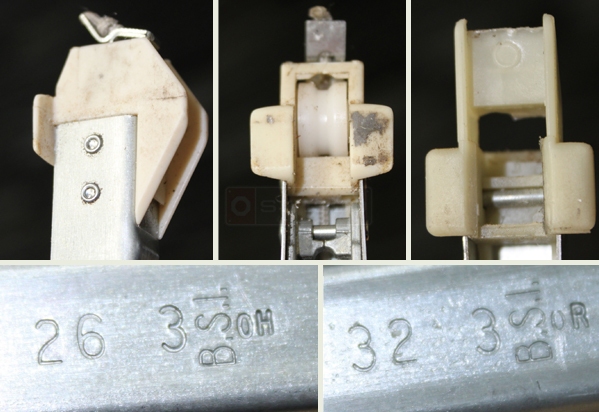 Donna from SWISCO responded:

June 13, 2012

Very good, thanks for posting clear detailed images. We have prepared a couple custom balance ordering links for you based on the information you have provided us. I will email you shortly.