Window has trouble opening despite lubrication
A home owner from Spanish Fort, Alabama says:
November 15, 2015
Hello, I am a homeowner with a problem window.
My wife opens this window constantly for ventilation while she works will oil based paints (artist).
a while back the window was difficult to open, I sprayed WD-40 and window worked well, Now a couple of months later, the same window will not stay open.
Per research on your site, I have determined that my spiral balances are toast.
I have 3/8 " 29 inch length, spiral balances,
No colored tab was seen on either side, the window weighs 9.5 lbs, (completely removed per your instructions). Dimensions are 22"w x 30"L. I also saw what I would call an alignment tab, broken on the lower extremity of the window edge. Do you have that part also? Photos of all attached. Thanks in advance for your help. Larry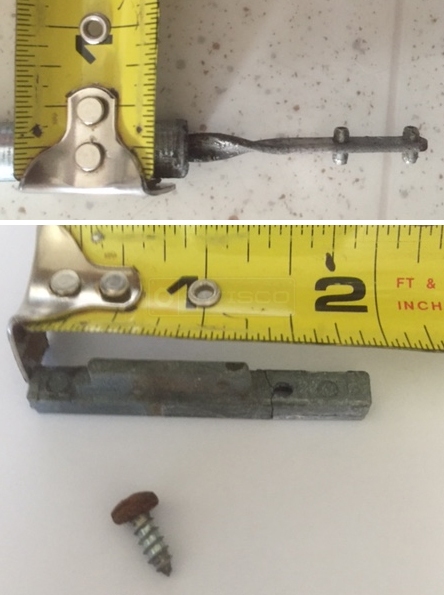 Tom from SWISCO responded:

November 16, 2015

Hey, Larry. I'd be happy to help you out. Let's tackle the broken metal tab first. This is known as a "pivot bar" or "tilt bar," and I believe you have an older version of our

26-041

. It's hard to tell, though. Check it out and let me know if you could use this in your window.

As for the spiral balance, you may still be able to salvage it. The good thing about spiral balances is that you can wind them to give them a bit more strength. I would give this a shot first just to make sure. Check out the guide below for instructions on how you can do this.

Series 900

spiral balance, since it appears you have the thinner 3/8" tube. If I'm mistaken and you have the larger 5/8" tube, see our

Series 600

instead.
A quick learner from gilbertsville, Pa says:
November 24, 2015
I suppose your initial trouble was opening the window? I have that problem w/ every single window in my house. Each one seems to fight back and be resistant to opening. And it also seems WD-40 worked for you to lubricate.
Does Swisco recommend anything else? I recently purchased sliding door lubricant; can this be used on windows?
Thank you
Tom from SWISCO responded:

November 25, 2015

If lubricating the window doesn't help you open it, then it is probably time to replace the balances. Do you have the

Series 900

like the customer above had?
A quick learner from Gilbertsville,Pa says:
November 25, 2015
Hi Tom.
I guess I was looking for lubrication advice not to purchase new springs.
Thanks.

Jim
Tom from SWISCO responded:

November 25, 2015

There really isn't much to lubricating. We like silicone spray, since it doesn't gather debris. But if that doesn't work then your balances will have to be replaced, especially if all the windows in your house are failing. Keep in mind these balances usually have a life span of 10 to 15 years.