Wrong balance shoe
A quick learner from Macungie, PA says:
May 4, 2016
The balance shoe you sent is on the left(15-195) and the old one that I need is on the right.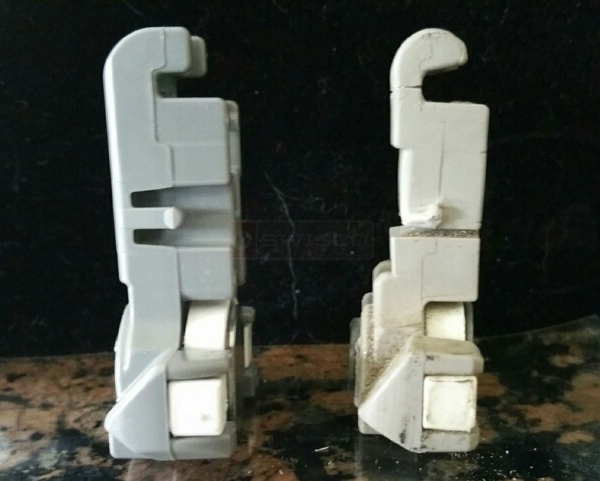 Tom from SWISCO responded:

May 5, 2016

I'm sorry to hear the

15-195

didn't work for you. I can't tell from this picture, but I'm going to guess that your old shoe has a deep groove on the front side of the "stem." Can you confirm?

If so, you have an older type of shoe and balance that are discontinued and no longer available. The

15-195

will not work as a replacement. You would need a new

Series 795

channel balance to replace the old balance system entirely.

An alternative is that your balance is uniquely thin. If your old shoe does not have that groove I mentioned, measure the width of the metal channel and tell me what it is. We can work from there.
A home owner from Macungie PA 18062 says:
May 6, 2016
Thanks for helping Tom. The issue is that my old balance shoe has an almost complete half circle curve, like an upside down J, where it attaches by pivoting around the iron rod at the bottom of the channel balance. The
15-195
has a quarter circle curve and then is almost straight so it wouldn't slide in around the rod. Since there are many, many homeowners in my community who have had the same problem with their windows, and you have discontinued the old channel balance rod and shoe, it was probably poorly designed. I am trusting that the new design will be better. So, I will need to order ten of the new
Series 795
channel balances to fix my windows. Would you send me whatever form I need to fill out to order those, please.
Tom from SWISCO responded:

May 9, 2016

We find that the bottom shoe for the

Series 795

works very well in the balance unit as a whole. Another thing to keep in mind is the width of the balance, I forgot to mention that before. It's important to confirm that your metal channel is 9/16" wide. If it's skinnier, the

Series 795

will not work. If that's the correct size, though, then you're good to go. You can place your order whenever you wish directly from our site.
A quick learner from Macungie, PA says:
May 10, 2016
I measured the channel and it is exactly 9/16 wide so we now have a plan. I will order the
Series 795
balance. Thanks for your help. Fay
Tom from SWISCO responded:

May 10, 2016

My pleasure. Thank you for your business, it means a lot to us. Please let me know how it works out!
A quick learner from Macungie says:
May 11, 2016
Bet you thought we had solved my problem. Not so easy, I am trying to order channel balances & need more help. I have identified
S795-32
as the size I need. It is asking me for a stamp option and the only markings I can find on my old channel are 320 (possibly length?) or BISN. Do I need to choose a stamp option? My tilt window is a Patriot 1900 single hung, 35 1/4" long. Also, if I am reading the features correctly, this channel balance comes with a balance pivot shoe already attached. Is this the
15-195
that I already have? The note also says that I should replace the channel balance on both sides of any window that I am fixing -- not just one side. Is that true -- I need to know before I decide how many I need. Fay
Tom from SWISCO responded:

May 11, 2016

Yes, the stamp option is very important. This indicates how strong the spring is. 320 is actually pretty odd for this kind of balance. It should be "32" and then a letter. Fortunately, there's a way to determine what you need without a stamp. You should see a chart on our

S795-32

store page. All you need to do is weigh your sash on a scale and refer to this chart.

The

Series 795

comes with the

15-195

by default, yes. As long as your old shoe is 1-1/4" wide then this should be good.

We do recommend replacing both balances. This will make sure the new balance doesn't have to do extra work making up for the weaker older balance. Of course, at the end of the day it's up to you.