balance for tilt window made by Ross and Barber
A home owner from Richmond says:
July 22, 2012
I have attached a picture of my kitchen window. I would like to replace the balances for the top window but I am not sure what to order.
The glass for this window (and for the bottom window) measures 16 inches, and they are tilt windows. As you can see from the other picture, on one side the balance is extended and is not moving up and down with the window. The bottom of the balance is spiral metal, and the top looks like white plastic.
The broken balance is about 23 inches long when extended (to the end of the metal, not counting the white plastic piece below). The other balance is 18 inches long.
Can you tell me all of the parts to order to replace the balnces on both sides? Do you need more information? Thanks!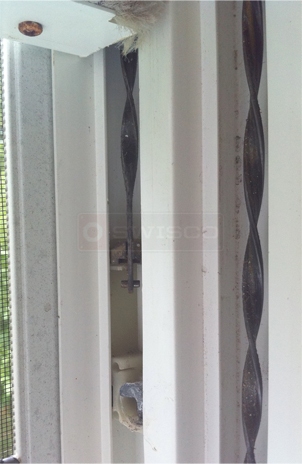 Tom from SWISCO responded:

July 23, 2012

Thanks for posting! Before I can recommend an appropriate replacement for your

Spiral Balance

, I just need to know a bit more information. First, what is the length and diameter of the tube for your spiral balance? Then I will need to know the weight of your window sash. Let me know!

You may find this tutorial video on how to replace a tilt window spiral balance somewhat helpful.
A home owner from Virginia says:
July 23, 2012
Dear Tom,
Thanks for your quick response! The white plastic tube is about 12.5 inches long and 5/8 inch wide. The window sash weighs 13.5 pounds. I just noticed that some of the white tubes have a red plastic tip. Does this make sense? thanks!
Tom from SWISCO responded:

July 24, 2012

Thanks for getting back to us with the details! It sounds like you might have one of our

Series 600

spiral balances. However, our balance lengths usually end on the inch, not on a fraction. Could you confirm the length of your tube? Make sure not to include the plastic tip or the spiral protrusion in your measurements!
A home owner from Virginia says:
July 24, 2012
You are absolute correct. It is actually 13 inches
Tom from SWISCO responded:

July 25, 2012

Awesome! That will make things a lot easier. I appreciate you double checking for me. Now, as I said before, it sounds like you have our

Series 600

spiral balance; please look at our

S600-13

. For a window sash that weighs 13.5 pounds, I recommend our red color tip option. This tip will carry a window sash weight range of 6 through, and including, 18 pounds.

Please keep in mind that the weight range information is based on 2 balances per sash. Balances are designed assuming friction in the jamb weather-strip will carry a portion of the sash weight. Suggested sash weights are approximate.
A home owner from Virginia says:
July 26, 2012
OK, so after all that I know which balances to buy! I will also need the tool to adjust the balances, I see that. Two more questions. Is it possible that if I use the tool to charge one side I can make it even with the other without replacing the balances? Right now the top sash drops because it only fits in on one side, because the two balances are at two different lengths. If I do need to replace the balnces do you recommend I replace the shoes as well? There is one of these in the picture. It is made of white plastic and metal and is 2 1/2 inches top to botton, 1 1/2 inches across and 5/8 inch deep. This is all a little more complicated than I thought! Thanks for your patience in answering me.
Tom from SWISCO responded:

July 26, 2012

The charging tool you would want is our

75-006

, for tilt-windows. It is probably wise to just try charging the balances you have now first. In many cases, that is all the service that is required. However, if while charging you don't feel any tension, or if the windows still droop, the balances will likely need to be replaced.

The plastic part you are referring to is known as a

Pivot Lock Shoe

. It is not necessary to replace them when you replace your balances, but if they look worn out or damaged it wouldn't be a bad idea.