casement split arm operators
A home owner from new jersey says:
June 25, 2011
I am trying to find a replacement operator. The one I have has Truth stamped on it with the number 21550. I have searched the truth window hardware site and still no luck. There is no offset and the arm at the hinge measures 4". the arm from the operator measures 3". I hope I provided good info.

I have looked at your Dyad operator it seems like a close match but i see it has an offset and the measurements are a little different and the clip is on top.

Thanks dominic

Dave Sr. from SWISCO responded:

June 27, 2011

Please send a photo of your operator. Your operator might be an older model and the newer style looks different. Send a photo so I can help you ID your part.
A quick learner from hamilton NJ says:
June 29, 2011
I have attached two pictures I hope they can help.
Thank you for the assistance.
Dominic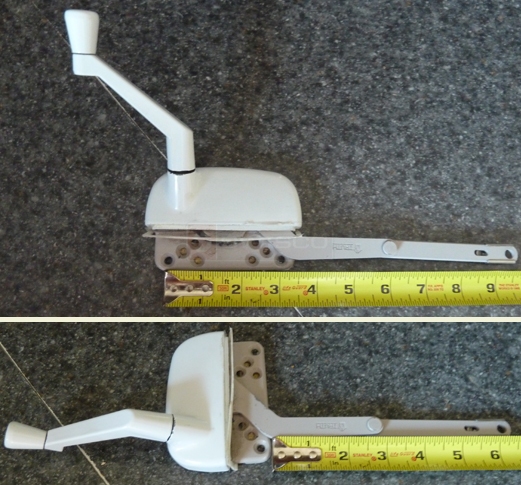 Donna from SWISCO responded:

July 1, 2011

Hi Dominic,

We just added a left hand and a right hand split-arm operator online for you. Looks like a possible replacement, has a different style body but the mount and link arm position with detach clip on underside match up to your original.

Take a look and compare the measurements to see if it could work for you:

39-318, RH Split Arm Operator
A home owner from hamilton nj says:
July 1, 2011
Thank you the measurements are good. I have a question if you can see on the pictures I submitted the operator has a recessed body with with a lower edge and a gasket to complete the seal.
Does the
39-317
and
39-318
have the same recessed body and lower edge and gasket assembly? I cannot see the back side of the operator body in the catalog
Thank you,
Dominic
Mike from SWISCO responded:

July 5, 2011

Dominic, please take a look a the alternate image below:

39-317 and 39-318.' />
A quick learner from Hamilton NJ says:
July 7, 2011
They look good thank you very much for all your assistance.
A home owner from Carmel, IN says:
July 8, 2011
I have wright split-arm operator on my windows. The measurements match with your listing (RH and LH). Question is on the clip. ON the Wright the clips seem to be on top and not bottom. Would that make any difference?
Thank you
Nathan
Dave Sr. from SWISCO responded:

July 11, 2011

Nathan, you will need the clip on top if that is how your operator is designed. However, it is not that difficult to change over with a small screwdriver. You will need to push the dimple in the clip and slide it off to put it back, and then push the dimple back down.