need milgaurd balance
A contractor from Colorado Springs says:
October 9, 2012
Looking to buy entire balance. Can you please help us identify.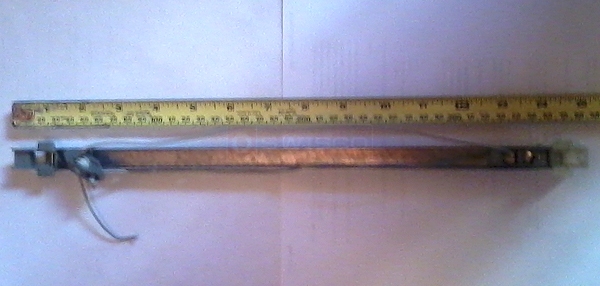 Tom from SWISCO responded:

October 9, 2012

Thanks for posting! Before I can offer an applicable replacement for this

channel balance

, I just need to know a bit more information about the bottom attachment. Please take a look at our

15-004

and

15-005

channel balance shoes, and note their depths. As you can see, they are 1-3/32" deep and 1" deep, respectively. Which one more closely matches your own bottom attachment?

That will help us identify just the Series, though. We will also need to know the length of the metal channel. Make sure that you're only measuring the metal channel--do not include the plastic attachments.

Finally, are there any stamps printed on the metal channel? If so, what do they read?
A contractor from colorado springs says:
October 12, 2012
The depth is 1 3/32. The actual metal strip length ( no plastic ) is 13 5/8. The stamp reads 13 2.
Tom from SWISCO responded:

October 12, 2012

Thank you. Are you sure that the metal channel is 13-5/8"? Usually balances like this end on the inch. If it is 13-5/8", though, could I see a closer picture of your bottom shoe? It may be something entirely different!
A contractor says:
October 17, 2012
Thanks for the response. It is 15" end to end. I have uploaded another couple pics. Let me know if you can make them out.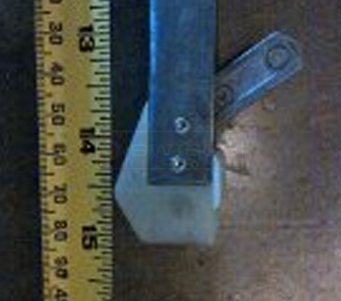 Tom from SWISCO responded:

October 17, 2012

Thanks for getting back to us. That makes things a lot clearer! I am sorry for the confusion. This balance is different than what I thought it was originally, and must be custom made.

Before we begin, however, I just need to confirm a few last things. First, and most importantly, there should be a metal clip at the end of the pulley string. Could I see a few pictures of it? I need to see what type of clip it is before I can recommend anything.

Lastly, now that I see what the bottom shoe is, your original measurement of the metal channel makes sense. These types of balances often end on the 5/8", so 13-5/8" is fine. When you say its 15" end to end, are you including the plastic attachments in your measurement?