Black tube spiral balance
A contractor from Florida says:
September 8, 2013
I have 4 spiral balances that are 30 inches in length and 3/8" in diameter. They are for tilting windows that have a sash weight of about 30 lbs. . When I removed the balance the spiral fell out. There is nothing broken on the spiral and there is nothing inside the spring to hold it in. The balance has a white tip and the windows are about 3 years old. Any information you can give me will be greatly appreciated.
Thank You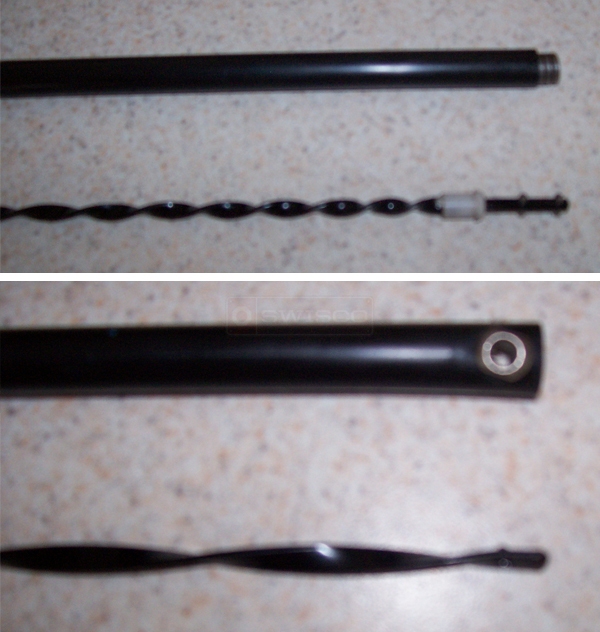 Tom from SWISCO responded:

September 10, 2013

Thanks for posting! Just to confirm, the diameter you're measuring is the outer plastic tube, correct? That's the one you want to measure. If so, then you're looking at a

Series 900

spiral balance. However, we don't have a standard tip color for a 30"

Series 900

tht can support a 30 pound sash.

I recommend going with our Yellow Tip. Two balances with a Yellow Tip can carry a window sash weight range of 24 through 34 pounds. If you want to go that way, check out this

Custom Spiral Balance Order Form

and fill out the rest of the information. One of our representatives will then get back to you shortly thereafter with a price quote.
A contractor from Florida says:
September 11, 2013
Thanks Tom for the information. I did measure from the outer plastic tube. Can you tell me why the spiral has nothing to hold it in the tube. It doesn't appear broken but just falls out. Hopes this makes sense.

Thank You
Tom from SWISCO responded:

September 12, 2013

If the spiral is just falling loosely out of the tube, it may not have the appropriate tension. Either that, or the spring is completely shot. If it's the former, though, check out the guide below to see how to recharge your balance so that it regains its tension.