tilt window hardware
A quick learner from Ramseur NC says:
November 22, 2013
Hi, This is a part from a vinyl replacement window. I did not see any that looked like it on your site. A small part of it is broken off on the end. I am enclosing pictures of both sides and a side view. The part is a little better than 2 inches long as it is. I found parts for another window from you back in the summer. I would be so grateful if you can identify this part so that I might order.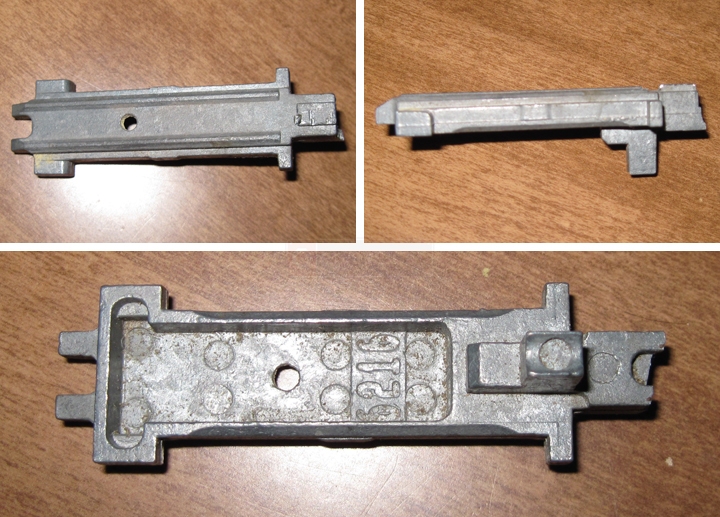 6126
Paul from SWISCO responded:

November 25, 2013

Thank you for posting. I think I've seen this before, but I can't be sure. Is this attached to a nylon piece? If so, then I think that nylon piece comes out, as well. I will need to see a picture of both. Let me know!
A quick learner from NC says:
November 26, 2013
Thank you for your reply. I had to study the broken area on the window. I didn't take the original part out. I am enclosing pictures of the black part you mentioned. The metal part does fit into it.
Also, the bottom outside vinyl parts are broken. I take it these are not exactly the best windows. We are having to reinstall them because they were just set in to very poor framing by the previous owner. I had to loosen the side vinyl to slip the black part out. The plastic is broken on the bottom where these parts go. I am showing a picture of that.
Finally, I looked at the pivot shoe and the tip of the metal piece is broken off in it. I am also showing the unbroken left end to help clarify.
I can find no makers marks on these windows at all but the previous parts I ordered worked perfectly in another window. The pivot shoe I ordered previously was 15015 blue with a width of 17/32. Since the outside pieces are also broken where these piece came out, if you could instruct me how to order for that, I would appreciate it. I will need the pivot shoe but the balance seems fine. It is the right side of the window that is broken.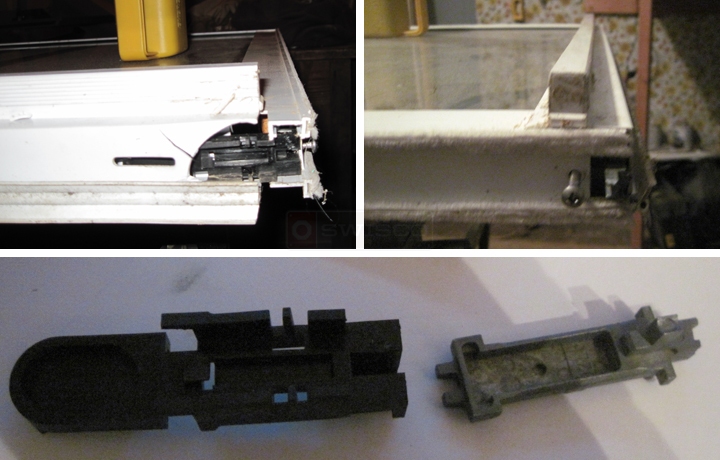 Paul from SWISCO responded:

December 4, 2013

Ah, I see. Thank you for the additional information. The

26-125

appears similar to your hardware and may work as a replacement. As for the bottom rail of the sash, I'm afraid we can't help with that. The only thing I can think of is going back to the manufacturer. I am not sure who that would be, though. A local contractor familiar with houses in your area might have an idea.