20yr Old Broken Balance
A handy person from Boise Idaho says:
September 9, 2012
My home has aluminum windows that I am told were built in bulk for a contractor with little attention to making them repairable. A pair of spiral springs have failed on one window in particular. One of the springs actually fell out one day as I slide the window up, the other has been unable to do the work of two and eventually wore out but remained intact.

I also have 6 other windows in various stages of wear.

Here is my immediate problem I hope you can either help me with or direct me toward someone who can. I had a professional window repair company look at the window with the broken spring in which the replaced one spring but said the other side of the window was irreparable. Evidently when that broke, it also permanently damaged some anchor point or lower bracket but he could not show me or describe exactly what was broken. I now have one spring replaced which is apparently destined to break since the window needs two to function.

I'm writing because I am a research engineer and by way of my profession I am reasonably inventive. What I don't know and cannot see are what parts may be broken which I could either recreate or develop an alternative. Do you have any pictures or better, diagrams that show how the springs function in the window frame and what they anchor to? My windows apparently were not meant to open up so these pieces could be replaced but being of the mind I am, it's hard to imagine something like this in which an alternative could not built. I will gladly send images/dimensions, etc. I have 6 other windows that are wearing out and I do not want to replace windows (as this repair person suggested) until I've exhausted my inventive capabilities.

Thank you for any advice.

Sincerely,

Curtis
Paul from SWISCO responded:

September 11, 2012

Thanks for posting! I'm not really sure if I can help too much without first knowing what type of balance you have. Aluminum windows can use either Spiral Balances or Block and Tackle Balances. Can you perhaps send a few photos of the broken balance, and of the window? I may be able to assist you from there.
A quick learner from Boise Idaho says:
September 15, 2012
I have attached 4 images which include the ends of a replacement spring and the internal spiral of a broken spring. I had the outer casing for the broken spiral but apparently the repairman took it with him so I no longer have a color code for spring tension. The replacement he charged for and left behind doesn't appear to have any color or coding on either end.
I also included close up images of the broken and working sides of the bottom of the sliding window for comparisons. The broken side now has a circular item stuck up in it which I don't think was there before. Perhaps the repairman didn't throw out casing and it's now stuck up inside?
At any rate, and diagrams or description of how this spring/window system is supposed to anchor or attach inside the frame would be very helpful to get me started thinking about what to do next. Thank you for any advice or direction. I would be glad to send more photos if necessary.
The dimension of the replacement spring left with us is: tube OD 3/8", length 31".
Best regards,
Curtis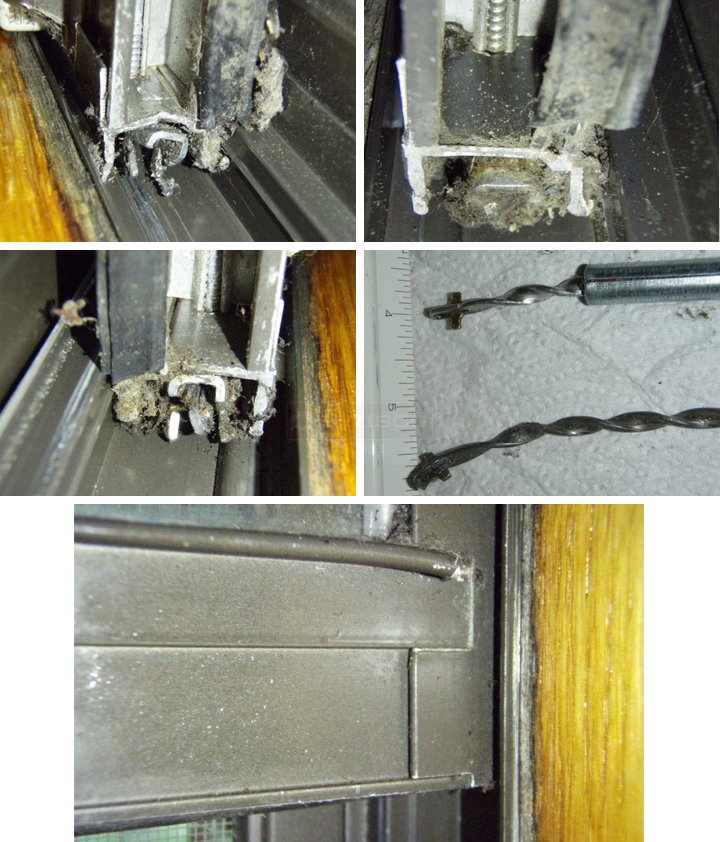 Tom from SWISCO responded:

September 19, 2012

Thank you for your patience in this matter. It looks like you have something like our

Series 400

spiral balance. Does that look about right? If so, I think a good place for you to start is with our guide on how to install this type of balance.