15-195 is too big
A home owner from USA says:
October 27, 2014
I bought 2 balance shoes to repair my window but the ones that I received (
15-195
) are a little fatter than the ones I need I think. I have tried and tried to make these work but i cannot get them into the window.
The ones that came with my window are probably 3/8in where the ones i got sent are 1/2 in.
Do you have the ones in stock that I need? I dont know what else to do to make these work.
Paul from SWISCO responded:

October 29, 2014

I'm sorry to hear you're having trouble. Can I see a couple pictures of your original shoe? Can you also show me the original balance? Thanks!
A quick learner from Hannibal, MO says:
October 29, 2014
Here are the pictures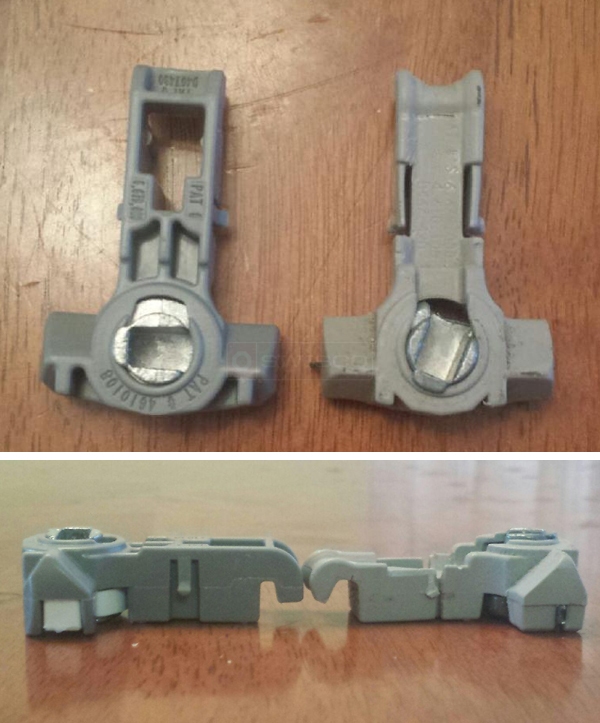 Paul from SWISCO responded:

October 30, 2014

Ah, I see. I don't believe the balance your shoe goes on is made anymore. Let me guess: there's an indentation on the end of your metal channel, correct? Your old shoe has a groove that lines up with this indentation but ours does not. They designed your balance this way to make it easier to remove the sash, but it was later found to be an unnecessary feature and so is no longer made. We do not have that grooved shoe, but our

Series 795

should be able to work as a replacement for the whole balance.
A quick learner says:
October 30, 2014
Yes.. what you stated is correct. If that grove wasnt there, it would likely fit... but with that grove in the channel, there is no way to slide it in.

I dont even think you could bend the channel and make it fit in there.

How difficult is the entire balance to replace? I have no previous window experience. Right now I either have to open my top sash down.. or put something under the bottom sash to keep it open
A quick learner says:
October 30, 2014
Also, does that cost of the balance for the pair? or does that only include 1 side?
Paul from SWISCO responded:

October 31, 2014

Installing these balances is very easy. Check out the video below to get an idea how. The balance we feature in the video is different, but the same principle applies. They are sold individually, not in pairs.
A quick learner from Hannibal, MO says:
April 7, 2015
Paul-
Weather finally got nice again and was time to open the windows. I purchased the parts that you recommended and got them here and they do not work for my application.
My current windows do you have a screw in connector for the balance. I'm not even sure exactly how to get these ones out.
Any thing I can do to make these work? I've placed 2 orders now and have 2 sets of parts I'm unable to use.
Thanks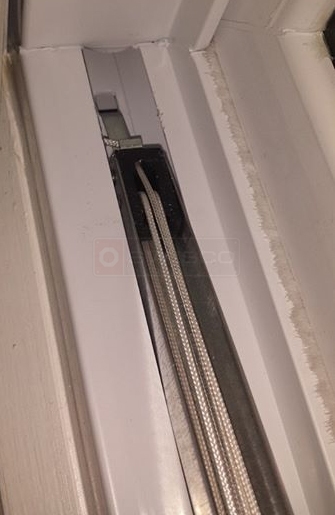 Paul from SWISCO responded:

April 9, 2015

Looks like you have a

15-198

balance clip attached to your balance. If you look at our part, you can see it hooks in the top track. With needle nose pliers, you can work it out of the window track.

Installing the new balances is another matter, since they have a screw clip on top instead of a hook. There are two possibilities, and I'm not sure which would be better for you. The first is to install an extra long screw in the pre-existing hole where the hook went. Don't drill into the vinyl itself, since it won't be strong enough to hold the balance, try to get it in the hole. The idea is to get the screw into the frame behind the vinyl window.

The other option may be more difficult. I would recommend having a handy person help you. The idea is to have a helper hold the balance while you pull on the top balance clip. With the string extended, lock the string about 6" with locking pliers to take the pressure off the clip. Then, untie the clip and put the old one on the new balance.
A handy person from Dallas, tx says:
May 4, 2015
I'm having the exact same issue, as well .i ordered the
15-195
balances but they are too big. When I try and put them in the channel, the plastic guides on the "t", try and bend. I used a small screw driver to get them adjusted but they are so tight in the channel, that when I hook the metal spring balance to it, there is so much restistance in the slide, that it pulls right out of the metal. I've even bent the metal so that the side tabs sit tighter, no avail. I'm assuming I need the 795 series as well?
Paul from SWISCO responded:

May 5, 2015