Caldwell, balance springs
A quick learner from AZ says:
January 26, 2015
We have several windows where the balance springs are not working, I have pulled one but looking at several previous post, I probably need to pull all of them to see if they are the same.
The one I did pull is hard to read, the windows are 20 years old and well oxidized, I can read 24 3 ON (or DN) CALDWELL
Paul from SWISCO responded:

January 28, 2015

Thanks for posting. Sounds like you have a 25" block & tackle balance with a stamp option of 2430. Now you just need to pick out the top and bottom fittings in order to determine the Series.

I recommend that you look at our

Channel Balance Home Page

and follow the steps in order to find the Series that best matches what you have.
A quick learner from Mesa, AZ says:
January 28, 2015
It appears we are missing a few of the metal clips that keep the balance spring unit from going to the top of the frame, are they essential for the replacement?
Also the bottom clips of the spring unit are in the way of being able to pull the internal window out of the outside frame, any suggestions to get them out of the way? I have tried using a knife blade but the bottom cleats are not clearing the internal window frame enough for it to come out.
Paul from SWISCO responded:

January 29, 2015

Based on your description, it sounds like you're missing a

top sash guide

. These are nylon or metal pieces that install on the top corners of the sash and prevent the channel balance from springing up. Check out the video below to see how they function.

As you can see, there are many possibilities, so you will need to compare your top sash guide to what we carry in order to find a good match. Alternatively, you can take a couple pictures of it and tell us what the dimensions are and we can try to find it for you!

I'm not sure about the bottom clip. Do you mean something like our

16-002

take out clip? Could I see some pictures of that, as well? That could help us come up with a solution.
A quick learner from Mesa, AZ says:
January 30, 2015
do these pictures help?
What spring will match the other window "27 3 EN Caldwell"
Thanks for your help, hope to get everything order this weekend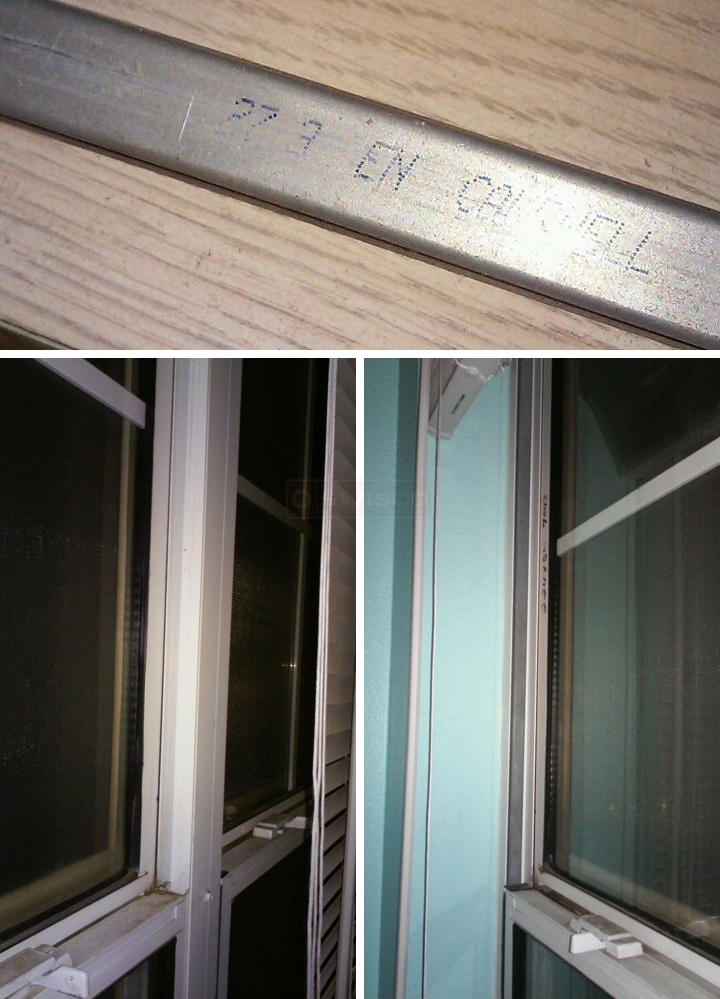 Tom from SWISCO responded:

February 3, 2015

Thank you. I'm afraid I cannot identify your hardware based on these pictures. Did you see the video I posted above? In it, we give a thorough explanation on what a top sash guide does and what you can do to repair it. In order to identify what you have, you can either browse through the section I linked to above or take a couple pictures of your own top sash guide removed from the window.

Do your balances also need to be replaced? I thought the problem was just with the top sash guide. If so, you could probably re-use your old balances. I am also not sure what clip it is that you need. I do not see any clip in particular in your pictures.
A quick learner from Mesa, AZ says:
February 5, 2015
It looks like I will need a couple of top sash guides
18-009
and yes the "take out clips" you named for me correctly, however when I have looked to match up the channel balance, what is the difference between the bottom fittings
15-001
&
15-002
they look the same in the pictures except for color?
Also is my balance "27 3 EN Caldwell" the same as my "24 3 ON (or DN) CALDWELL", just longer??
Tom from SWISCO responded:

February 6, 2015

Great, glad you were able to find the parts you needed! The difference between the

15-001

and

15-002

is the depth. Carefully examine their dimensions, then compare them to your own shoe to see which is better. The color does not matter.

Your 28" long 27 3 stamp balance could be the same as your 25" long 24 3 stamp balance, but you should examine the nylon attachments anyway just in case. It's always a good idea to double check these things, as you never know when the builders made a last second alteration. I've seen it before and it's better to be safe than to be sorry.