Failing Block & Tackle Unique 27-C-30 Balances
A quick learner from Springfield, MO says:
April 8, 2013
We have failing block and tackle balances in 3 windows and I think I've found the ones we need on your website. However, I know VERY little about windows and have a question: we have single hung windows, a block and tackle balance on each side so do we have to replace both balances in the failing windows? or is there a way to figure out which of the two (if not both) are failing on a single window?

And just to be sure I have found the right replacement(s)...our balances are stamped with (12/2)UNIQUE 27-C-30 (the metal channel measures 28" but it seems like it should be 27" based on the 27-c-30 stamp but like I said, I know very little to nothing about windows). What replacement would you recommend?

Thank you so much for your time!

Chris
Tom from SWISCO responded:

April 8, 2013

Hey, Chris, thanks for posting. It might be best to replace both balances at the same time regardless of which is failing. Even if one of them is operating well, it would still be more worn out than any new replacement. The new hardware would just have to work extra hard to pick up the slack for its older counterpart. You can also just put the older balance aside as an emergency backup.

Your stamp seems appropriate for the length. Usually these kind of balances have a stamp that is a digit less than the length. It's not true in all cases, but it's not a cause for concern. In either event, what option listed on the balance page best matches the weight of your window sash?
A handy person says:
April 8, 2013
Tom, thanks for your reply. The sash weighs 20 pounds, so I guess the 28C?

Chris
Tom from SWISCO responded:

April 9, 2013

Well, I'm not sure what Series you have, so I don't know if the 28C for that balance can support 20 pounds. If that's what we have listed on the product page of the balance you're looking at, though, then it will be what you want.
A handy person from Springfield, Mo says:
April 9, 2013
How can I tell what series I have?
Tom from SWISCO responded:

April 9, 2013

Well, the best place to check is our

Sash Support Balances & Hardware Section

and see which balance matches your own, but I thought you had said that you found a SWISCO part number on our site that was a match. What did you find?
A handy person from Springfield, Mo says:
April 9, 2013
Sorry, should've been more clear...I found this discussion on the board where someone else was searching for a replacement for the same balance.
Here is the link
In this case, the
S795-28
was recommended, but I just want to be sure.
Thanks for your help, very much
Chris
Tom from SWISCO responded:

April 10, 2013

Great. 28C is definitely the option you want, then, since two

S795-28

balances with this stamp can carry a window sash weight range of 18 through 23 pounds.

Now, I still can't say whether or not you have the

S795-28

for sure. I would have to see pictures of your balance and its shoe, along with detailed dimensions.
A handy person from Springfield, Mo says:
April 10, 2013
Here some pics of the balance in question...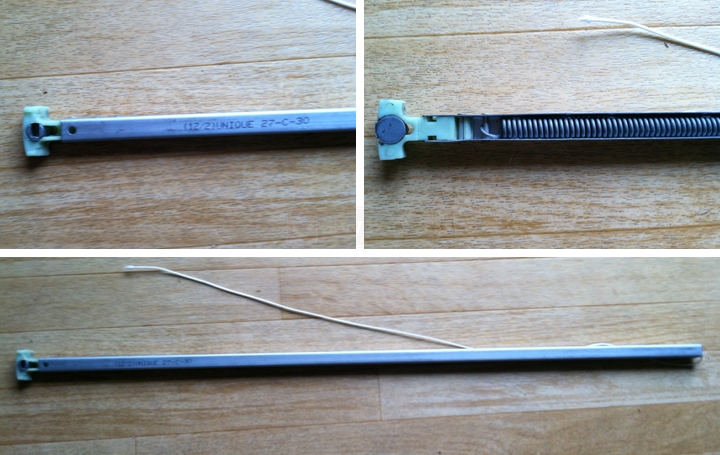 Tom from SWISCO responded:

April 11, 2013

Great! Thanks for the pictures. It certainly looks like our

Series 795

balance. As long as all the dimensions match up, and as long as the width of the metal channel is 1/2", I think it's a good match.
A home owner from Murfreesboro, TN says:
January 1, 2014
Would the same replacement model fit for mine? I notice we have the same original model number but mine looks different from the other pictures..
I am having the same problem, the string is not working properly.
I have attached pictures of this helps.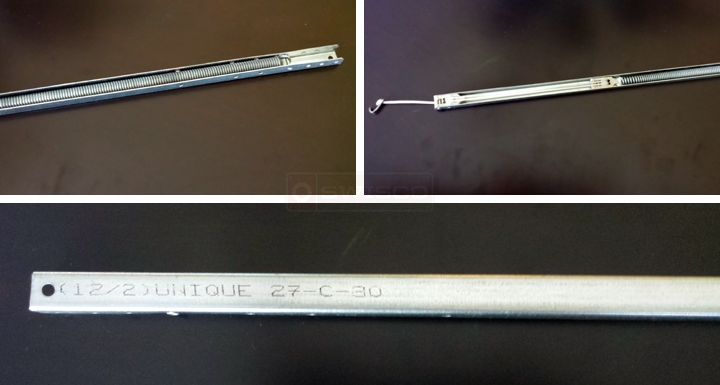 Paul from SWISCO responded:

January 3, 2014

No, your balance appears different. The stamp is not a model number, keep in mind. It just indicates spring strength. I think you should consider our

S770-27

channel balance. This looks more like what you have, but see if you agree.