Identifying correct replacement units
A handy person from Tampa says:
January 30, 2013
Our house is 6 years old and the majority of the sash mechanisms have failed. How do I identify replacement units?
I have included pics from one set of failed units; the others are all of the same brand, although are different lengths and I suspect different spring strengths.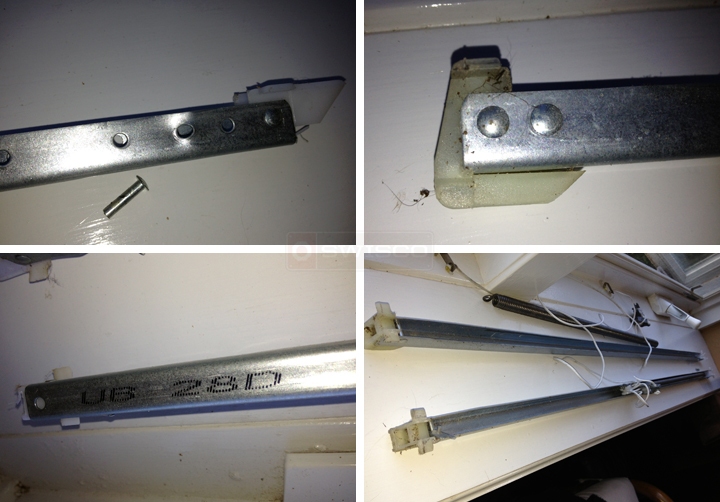 UB 28D
Tom from SWISCO responded:

January 30, 2013

Thanks for posting! Before I can offer an applicable replacement for this

channel balance

, I just need to know a bit more information about the bottom attachment. Please take a look at our

15-004

and

15-005

channel balance shoes, and note their depths. As you can see, they are 1-3/32" deep and 1" deep, respectively. Which one more closely matches your own bottom attachment?
A quick learner says:
January 30, 2013
Hi Tom,
Looks like 1", pic attached.
Also, the main problem seems to be with the pulley blocks - see 2nd pic. The rest of the unit is not too bad. Not sure if I can replace just pulley blocks?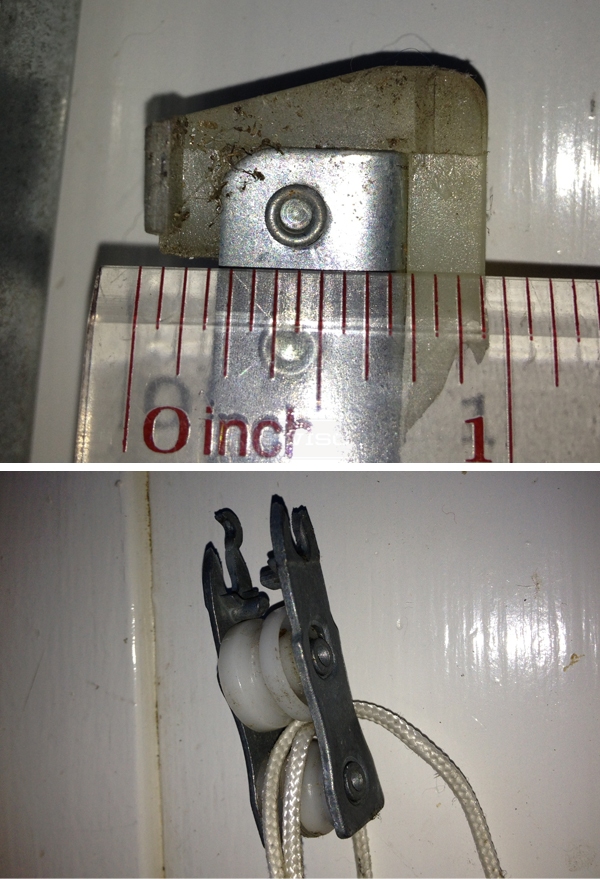 Tom from SWISCO responded:

January 31, 2013

Unfortunately, those pulley blocks are not able to be replaced. If yours is broken, then the entire balance has to be swapped out.

That said, you gave me all the information I need to identify your balance. I recommend that you consider our

S380-29

channel balance with a 2840 option. Look over this hardware and let me know if it looks good to you. Make sure to double check the weight of your sash compared to the 2840 option!
A quick learner from Tampa says:
January 31, 2013
Hi Tom,

Sounds good, I will order a pair of those for the 1st window, check all works OK, then order a few more sets.

How about the spring rating? The old unit for this window says "UB 28D". Does that mean anything to you?
Tom from SWISCO responded:

January 31, 2013

Yes. Usually that corresponds to the 2840 option, but like I said, you should double check your sash weight just in case.
A quick learner says:
February 12, 2013
Hi Tom,
Thanks for the help. Those worked perfectly. I'm ordering 8 more, as well as 8 with the 2850 option for some of the larger windows.
One more question - quite a few of the top sash guides are broken - see photo (right). I had ordered some of your
18-009
, but they are not correct (on the left in the photo).
I could not find anything on your site, so perhaps you could suggest something close enough to work. Dimensions are 1" wide, 11/16" deep (i.e. perpendicular to the plane of the photo). The holes are set 13/16" on centers (but I'm assuming I can drill new pilot holes if necessary).
Finally, many of our windows are just plain hard to move. What lubricant would you recommend for sash windows?
Thanks for all the help.
Seb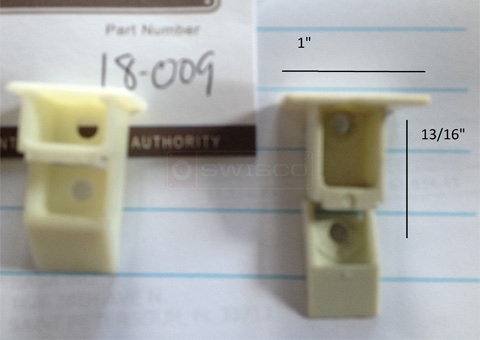 Tom from SWISCO responded:

February 14, 2013

That's great news! I'm glad to hear the balances worked out for you.

For this top sash guide, though, how about our

18-180

? That looks like it might be a match. Let me know what you think.
A handy person says:
February 14, 2013
That's the one, thanks!