Monton window replacement latches etc
A quick learner from North Carolina says:
July 24, 2011
I took some measurements and it looks like my damaged window latches match product code
26-243
and 244. The latch slides into a groove on the window. A sticker on the window casing indicated it was a monton window. Please look at the pictures to see if you agree.
Also, I need to replace a couple of the items in the side channel that helps the window go up and down. I'm not sure what this is called but it has a spring inside. Let me know what additional information you need so I can order the correct part.
Photos attached.
Thanks,
Mark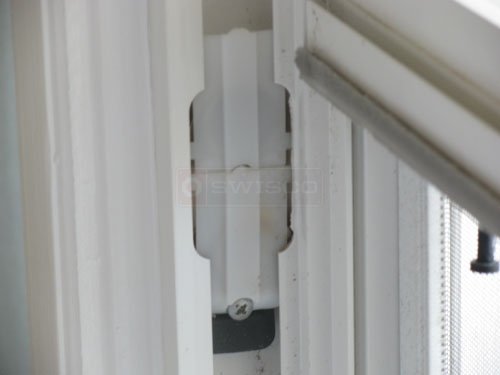 Mike from SWISCO responded:

July 26, 2011

Hi Mark,

I did not include pictures of your tilt latch because they are too fuzzy to make out. If you would like to try sending them again use the 'macro' setting on your camera (usually it is a little flower icon). The macro setting is for taking pictures of things that are very close to your camera.

You can also take a look through the other

26-243

and

26-244

discussions (found near the bottom of the product page). You will find alternate views and descriptions regarding this style tilt latch.

The other piece of hardware you sent a picture of is your coil balance sash support balance. We first need to determine which coil balance series you have. If the coil balance housing and related hardware are in working condition still you will only need to replace the internal coil. Take a look at our

coil balance catalog page

and see if you can determine which series your window has. If you need help, remove one of your coils from your window and take some pictures to submit here.
A quick learner from Raleigh, NC says:
July 31, 2011

Thanks Mike for your response. I finally was able to take pictures of the latch with the macro feature. See attached photos.

I will send a separate email in regards to the coil balance.

Mark
A quick learner from Raleigh, NC says:
July 31, 2011
Mike,
I sent a separate email in regards to the latches. This email addresses the coil balance, so I could attach some additional photos.
The bottom spring had the following information:
3.5 33"
PAT5232208
The top spring had the following information. It was hard to read, but I think I made out all the characters.
USA PAT
5232208
OMFCA
The white piece had something like OM137 Patent pending.
Photos of disassembled coil balance is attached.
I hope you know which coil balance I need.
Thanks, Mark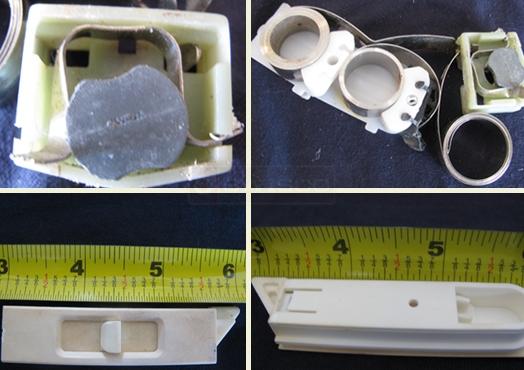 Mike from SWISCO responded:

August 2, 2011

Good morning, Mark. Thank you for submitting your photos.

We'll begin with the coil balance. You mention the coil is stamped "3.5 33"; this appears to be the Swisco

S160-3

Series 160 Coil Balance. This is a 3.5 lb. coil balance measuring 1/2" wide with a maximum travel of 35".

The corresponding support would be the

15-150D

Double Support. The pivot shoe would be the

15-111

Pivot Shoe.

Please double-check your measurements before considering the mentioned hardware as replacements.