Patriot window pivot shoe
A home owner from New Jersey says:
August 19, 2013
I have a dilemma . I see the part number
15-046
that looks exactly like mine. But the measurement of the
15-046
is 1/2 inch thick. When I measure the shoe I have it neasures 17/32 which leads me to part number
15-015
. The
15-015
does not look like the one I have . Which shoe do I order? Thanks. This is a great website. Well done. If I can ask one more question, as you can see one of the slots on the top of the shoe whete the spring sits in llase has spread open for some reason. Almost all of my Window's shoes have this problem. Why do you think this has happened? Are the springs to tight or failing? Again thanks for your support.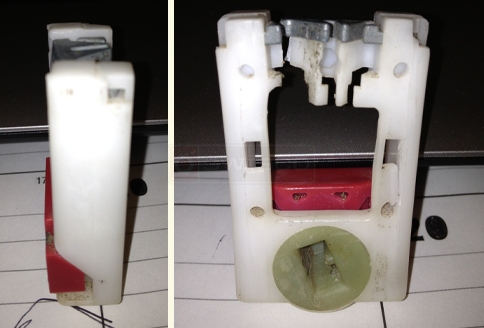 Paul from SWISCO responded:

August 20, 2013

I think you might want to consider our

15-046

. Some companies consider this to be 17/32" thick.
A home owner from New Jersey says:
August 21, 2013
Thanks . I will do so. Can I get your opinion as to why this is happening?
A home owner from New Jersey says:
August 21, 2013
See attached picture of the 27 " blue tip balance. It has a plastic cover. Will the
series 600
balance you have work as a replacement? The plastic housing is broken. Would that cause the shoe to break?

Tom from SWISCO responded:

August 22, 2013

Oh, I'm sorry. I'm not sure why your pivot shoes split, actually. It's possible that the tension was improperly adjusted on the balance, forcing the spiral to come loose, but that's just a guess.

As for the balance, I think our

Series 600

is a good place to start. Just make sure that the outer diameter of the plastic tube is 5/8" (or 9/16"). I don't think the plastic tube being broken would affect the shoe. Again, that probably has more to do with the tension of the spiral. Check out our guide below to see the best way to adjust this type of balance.
A home owner from New jersey says:
August 29, 2013
To all. I received the shoes, springs and tool. It was received with proper packing and the order was complete. Received them in two days. Outstanding.
I have a little problem though. The shoes are a little loose. When I tilt the window down the brake does not hold the window in place. It feels like they need to be a little bigger.
I did have much success with breaking one of the metal guides that reside in top of the existing shoe that was out of position and holding the shoe from sliding properly and than using the tool to lay the spring to the other spring latch location. Now I have a bunch of shoes with only one catch left.
I did break a shoe and that is when I found out the shoe ordered was loose and the brake didn't work .
My question is is there a shoe that is as little thicker and wider? I am using the
15-046
. Oh and the springs I ordered were a perfect replacement. Thanks.
Paul from SWISCO responded:

August 29, 2013

Hmmm... you could consider our

15-047

and see if this is better. This is a little thicker at 5/8". I'm just worried that this might be too thick. Let me know what you think.